Indian man sentenced to death after raping & murdering 6yo girl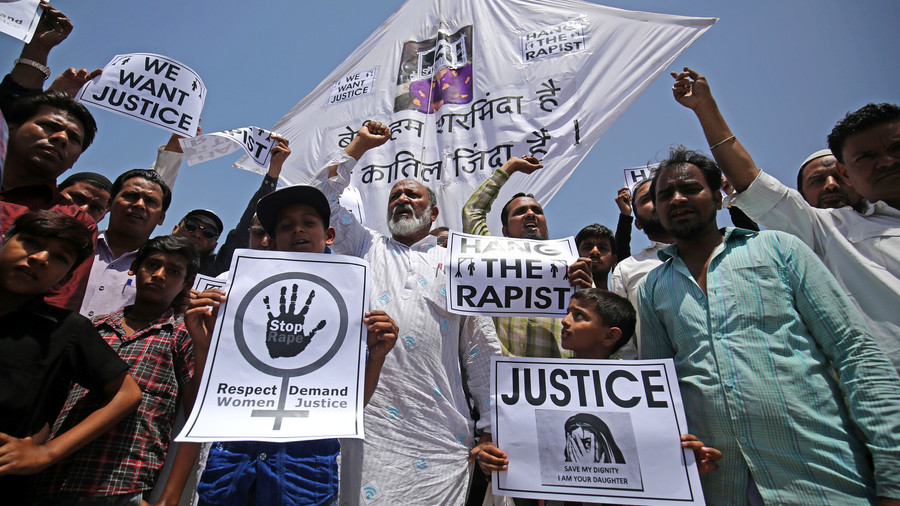 A man in India has been handed the death penalty after being convicted of raping and murdering a six-year-old girl. It comes days after the country's cabinet passed an order making the rape of girls under 12 punishable by death.
Anil Balagar, 35, was handed the sentence by a city court in Bangalore on Saturday, according to the Times of India. He was convicted of murdering the girl after raping her inside his home in Girinagar.
The man was given 10 years of rigorous imprisonment for raping the girl, and the death penalty for killing her. He was also fined 10,000 rupees (US$150).
The victim went missing while playing outside her grandfather's house, which is across the street from Balagar's home, on April 20. "Three days later, foul smell emanating from Balagar's house caught the attention of neighbors. On breaking it open, police found the girl's body," public prosecutor Channa Venkataramanappa said. An investigation showed that the girl was raped before being smothered in a pillow.
The Saturday ruling must now be confirmed by the high court. As the prosecution waits for the confirmation, Balagar – a father of two daughters – has time to appeal the ruling. It comes just days after India's cabinet passed an executive order making the rape of a girl under the age of 12 punishable by death. However, Venkataramanappa stressed that the Saturday ruling has no connection with that order.
The change in law will become permanent if it is approved by India's parliament, which is currently in recess. It will go into effect once it is signed by the president. However, it will lapse after six months if parliament doesn't ratify it. The executive order followed nationwide demonstrations over recent cases of child sexual abuse. In one case, an eight-year-old Muslim girl was kidnapped and gang-raped for days before being killed. Eight men, including four policemen, have been charged.
India has seen a large spike in the number of recorded rapes in the country, with 40,000 incidents reported in 2016 – a 60-percent increase form 2012. Around 40 percent of India's rape victims are children, according to Reuters.
If you like this story, share it with a friend!