Bus passenger slams, stomps on 7yo child in disturbing attack (GRAPHIC VIDEO)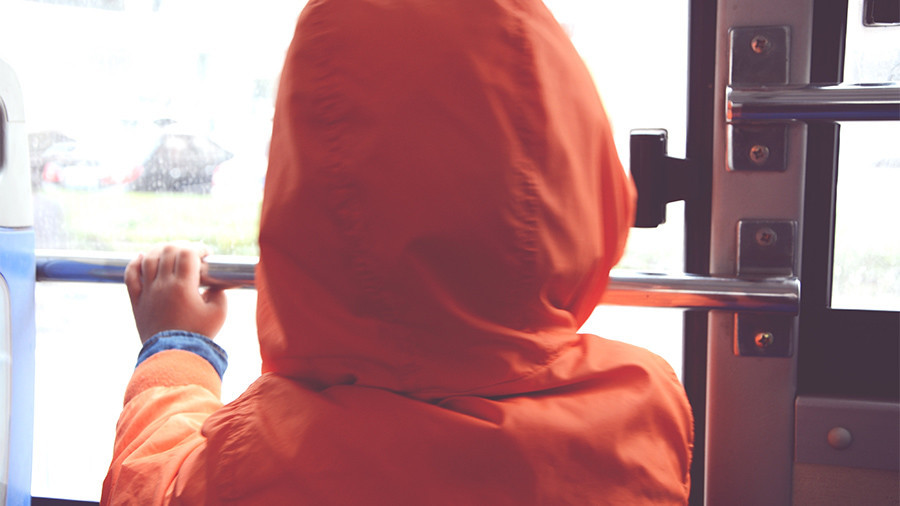 Shocking video of a man brutally assaulting a young child on a public bus in China's Sichuan province has been shared on Chinese social media. Incredibly, some online commenters praised him for 'disciplining' a misbehaving child.
CCTV footage shows a 7-year-old boy playfully kicking out at bus passenger Guo Moutian, 21, who suddenly snaps and slams the child to the ground before repeatedly stomping on the stunned youngster's head. The incident occurred around 11:30 am local time on April 27, according to The Paper.
Warning: Some readers may find this footage disturbing.
The bus driver immediately pulled over and raised the alarm with nearby traffic police. According to local reports, the boy's mother was called to the scene and took her son to the hospital, where he underwent a CT scan which determined that there was no brain damage.
Guo was sentenced to 15 days in jail and received an undisclosed fine, The Paper reports, citing the Public Security Bureau of Suining City.
The incident has drawn intense debate on Chinese social media, with an unexpected amount of support and praise shown for Guo, with commenters applauding him for taking action against a so-called 'bear child.'
"This person has done what I dared not to do," wrote one social media user in a post that was liked over 4,000 times according to The Paper. "It's proof that if there's no parental discipline, and when it comes to (wider) society, the community will teach that lesson," wrote another in a post liked 2,000 times.
Others, however, criticized the man for himself behaving like a child and resorting to extreme violence to stop the boy from hitting him.
Xionghaizi (translating as little devil or brat), or "bear kids" as they are more commonly known, are young, boisterous children who misbehave in public. The cultural phenomenon is widely discussed in China with many complaining about a breakdown in respect and manners in younger generations.
"The only thing noisier than bear kids on the high-speed train are their parents and grandparents telling them to knock it off. Other countries already have women-only carriages; why can't China have special carriages for these bear kids and their parents?" TV host Meng Fei said in October 2017 as cited by Sixth Note.
Think your friends would be interested? Share this story!