4 dead, 833 injured as IDF clashes with #GreatReturnMarch protesters – Palestinian Health Ministry
Protesters have gathered along the Gaza border as Great March of Return demonstrations enter their fifth week. At least 42 Palestinians, including two journalists, have been killed and thousands injured since the protests began.
Four Palestinians, including a 15-year-old, have been killed and at least 833 injured in Friday's protest, according to the Palestinian Ministry of Health, as cited by Haaretz. Two of those killed were shot east of Gaza City, and one east of Khan Yunis, Palestinian Maan News reported. The three deceased have been named as Abdel-Salam Bakr, 29, Mohammed Ameen Al-Maqid, 21, and Khalil Atallah, 22. The fourth victim, whose named has not been disclosed, died in the hospital on Saturday.
Of the 833 people injured, at least 174 were wounded by lsraeli live fire, according to figures released by the health ministry. Meanwhile some 129 people were affected by gas inhalation, a spokesperson for the ministry said.
The Palestinian Red Crescent Society confirmed it dealt with just under 600 injuries throughout the day.
The Director of Emergencies at Al Shifa Hospital, Ayman Al Sahabani, confirmed the hospital had treated hundreds of injuries including at least 10 patients wounded in the stomach, neck and head.
"They will die at any minute," he said of the critically wounded, adding that many injured people were still being transported by ambulance from medical points to hospitals.
"As medics we are in a state of emergency, we are trying to treat these injuries, and transfer [patients] to the intensive care units and surgeries as soon as possible. There is lack of medicine and medical equipments in the hospitals, and the hospital is crowded."
Footage shared by the Palestinian Press Agency shows youths lying on the ground near a security fence with leg and foot wounds. Another clip shows a group of Palestinian protesters throwing stones at tanks along the border.
The IDF has issued a statement on Twitter claiming more than 10,000 Palestinians have taken part in riots, threatening the security fence. "In response, IDF troops have used riot dispersal means & have fired in accordance with the rules of engagement," the forces said.
In the last hour, over 10,000 Palestinians have participated in the riots & attempts have been made to harm security infrastructure, roll burning tires, hurl rocks and fly kites with flaming objects attached to them

— IDF (@IDFSpokesperson) April 27, 2018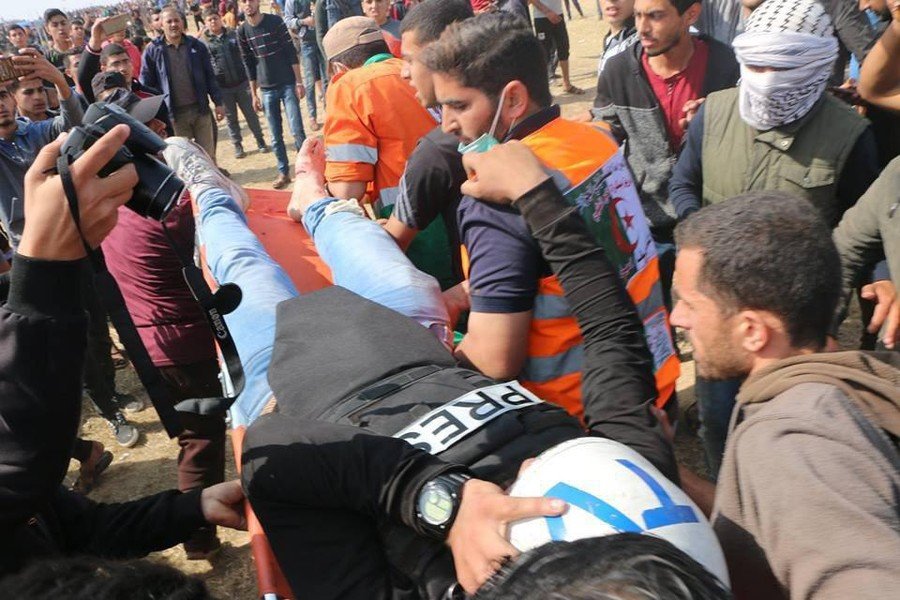 At least three journalists are among the injured, according to Hind Khoudary, an RT contributor based in Gaza. Four paramedics were injured at a camp in Al-Burayj in the Gaza Strip when Israeli soldiers fired tear gas, targeting a medical point there, Khoudary said.
The medical point was attacked twice, according to a spokesperson for the Palestinian Health Ministry who claimed Israeli forces were trying to hinder the work of medical personnel.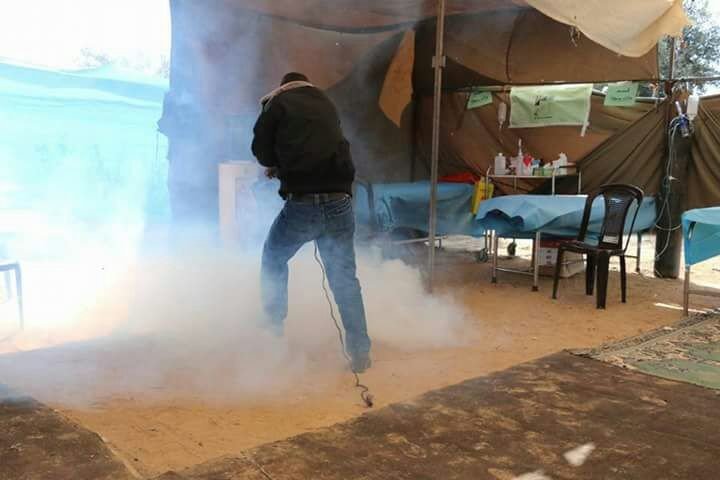 The rallies, which kicked off on March 30, are expected to continue until the anniversary of the creation of the State of Israel on May 15. The day, known as Nakba, which literally means "catastrophe," marks the 1948 exodus of around 700,000 Palestinians, who fled or were expelled from their homes during the Arab-Israeli War.
Last week, some 3,000 protesters took part in demonstrations in which four Palestinians were killed. Of the 150 people who reported injuries, 63 were hit by live ammunition, according to the Palestine Red Crescent Society.
International medical group Doctors Without Borders (MSF) said the injuries sustained by those hit by live ammunition have been unusually severe. "Half of the more than 500 patients we have admitted in our clinics have injuries where the bullet has literally destroyed tissue after having pulverized the bone," said Marie-Elisabeth Ingres, the organization's head of mission in the Palestinian territories.
Think your friends would be interested? Share this story!
You can share this story on social media: