Macron: It doesn't look like Trump will stay in Iran nuclear deal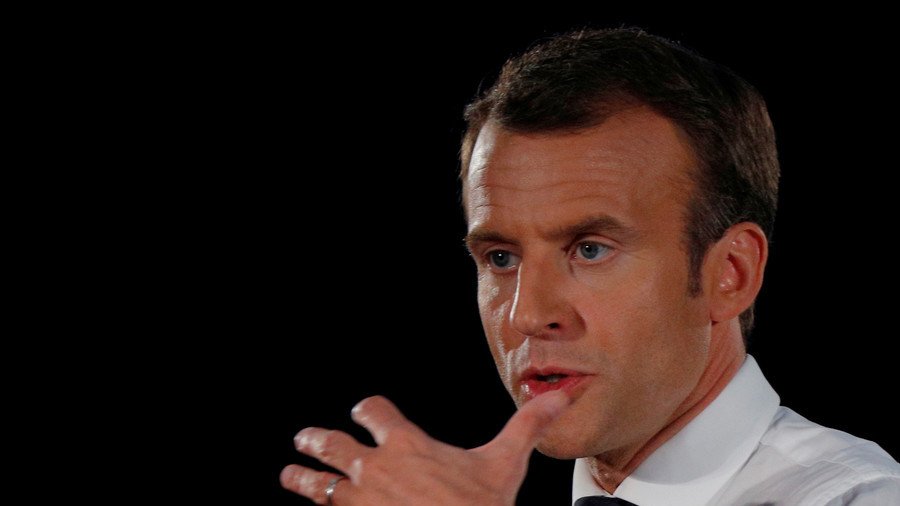 French President Emmanuel Macron believes US President Donald Trump is leaning towards getting the US out of the Iran nuclear deal. The US leader is not ready to go back on his pre-election promise, Macron told media.
"Just like you do, I listen to what President Trump is saying, and it seems to me that he is not very much eager to defend [the Iran nuclear deal]... I have in mind that it is his campaign commitment that he made a long time ago. So I do not know what the American decision will be, but if you take a rational look at the announcements and the comments made by President Trump, it seems to me that he will not do his utmost to preserve the JCPOA," Macron said during a press conference at the George Washington University at the end of his three-day trip to the US.
Macron also reiterated his plan to expand the nuclear deal with Iran to include provisions for restraining Tehran's influence in the Middle East. He called the JCPOA, under which Iran agreed to abandon its nuclear program and which is set to expire in 2025 if it does not fall apart before that, just one of four "pillars." The others include forcing Iran to also abandon its ballistic missile development and containing its influence in Syria, Iraq and Lebanon. In return, the Western powers will not reintroduce economic sanctions against Tehran.
The fact that he appears to be unable to change Trump's mind on the deal, which has been hanging in the balance for over a year, does not mean that the trip was a failure, Macron said, noting that his goal was to push for a new, much broader agreement that would include Iran and the US.
"I want to be the honest broker of the situation," Macron said.
He went on to praise the US president's deal-making skills, saying what he called the US' "strategy of increasing tension" with Iran can bear fruit.
"His experience with North Korea is that when you are very tough, you make the other side move and you can try to go to a good deal or a better deal," Macron said, calling Trump a "dealmaker."
READ MORE: Iran has no reason to trust any new deal Macron & Trump devise – experts
Analysts are skeptical that Tehran would accept any new deal, especially one which simply makes more demands of it, since it has lost any trust it might have had in the US and its allies.
"This is completely self-illusion to think that you can arrive at a new deal by linking it to non-nuclear issues, regional issues et cetera, because Iran, for its part, can advance its counter-argument that Yemen should be brought in, and the US and the French misbehavior, the rogue unilateral aggression against Syria," Kaveh Afrasiabi, a former adviser to the Iran nuclear negotiators, told RT.
You can share this story on social media: