Mexican presidential hopeful shocks with proposal to chop off thieves' hands
Published time: 23 Apr, 2018 14:17
Edited time: 24 Apr, 2018 07:45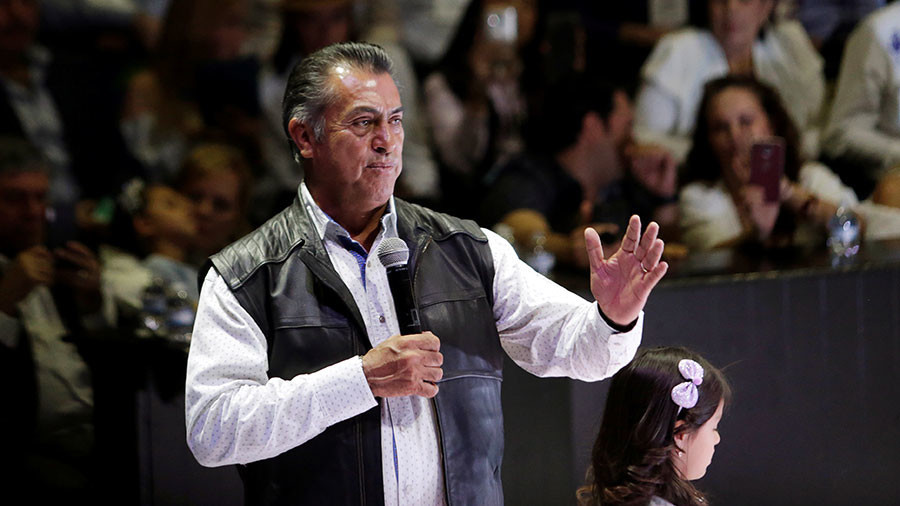 A Mexican presidential candidate has stirred controversy, after his unsettling comments that thieves should have their hands cut off went viral.
The proposal was made by Jaime Rodriguez, an independent candidate in the July 1 Mexican election, during a discussion about corruption in the first debate among the five presidential candidates.
Known as "El Bronco" for being blunt and even vulgar at times, Rodriguez said that the most effective way to fight corruption and crime was to adopt amputation practices widely used in several Middle Eastern countries, for example in Saudi Arabia.
"We have to cut off the hands of those who rob. It's that simple," Rodriguez said.
Startled and incredulous, the moderator of the show had to repeat her question twice to make sure he meant what he said.
Rodriguez, who became the first candidate in history without a political party to win a gubernatorial contest, has been notorious for his controversial remarks. In one statement he accused Mexicans of being "too liberal in the topic of faith," explaining that two earthquakes that rocked Mexico came as a punishment.
Rodriguez's comments sparked instant reaction and inspired jokes and memes that have already flooded social media.
In one meme, inspired by a 'Texas Chainsaw Massacre' film poster, Rodriguez is depicted holding a chainsaw ready to fulfil his promises.
In another, the presidential hopeful appears as Darth Vader cutting off Luke Skywalker's hand with his light saber.
Another meme was created by using the translation of Rodriguez's speech into sign language.
Journalist David Agren slammed this radical approach in dealing with corruption as a proposal to take the country back to a time centuries ago past.
One of the memes entitled "The House of Representatives in 2019" hinted that El Bronco's proposal may turn out to be self-defeating.
As corruption continues to be a persistent issue in the country, all five candidates feel pressured to offer their solutions. Rodriguez is convinced his approach will be the most effective.
"It's not a bad thing, countries that have left corruption behind have done it," he said.