Hungarian protesters rally for 'press freedom & Orban regime change' (PHOTOS, VIDEOS)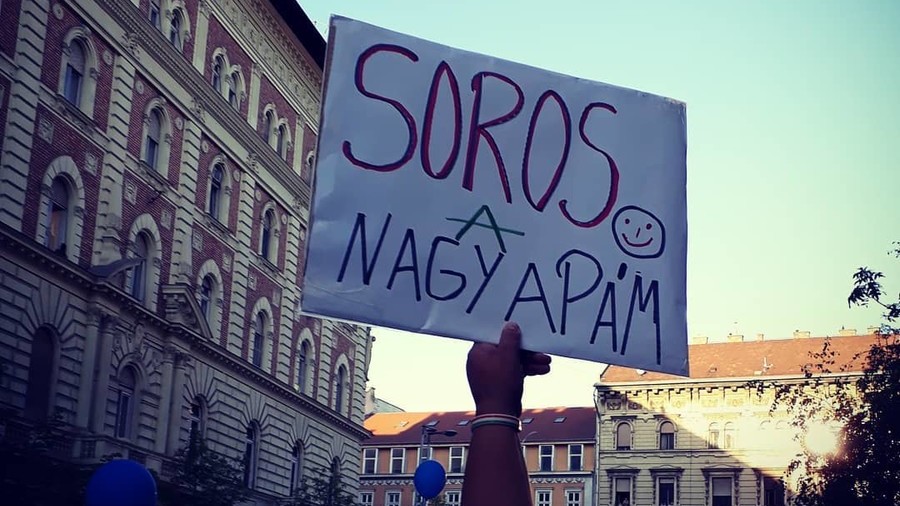 Thousands of protesters attended a massive rally in Budapest, to defend "free press" and to oppose Viktor Orban's "regime," which, after its recent landslide election victory, aims to pass a so-called 'Stop Soros' anti-NGO bill.
Anti-government protesters, united by their dissatisfaction with the state of "press freedom" in Hungary, held another massive rally in the capital to challenge the results of the April 8 general election, in which national conservative party Fidesz secured a two-thirds majority in the Parliament.
'No United States of Europe': Hungary's Orban vows to strengthen his sovereign policies
The '2.0 We are the majority!' rally started in Kossuth Square in front of Parliament before the protesters, waving the national colors and European Union flags, made their way to Budapest's Szabadsajtó (Freedom of the Press) Road to hear speeches against Prime Minister's Viktor Orban, who secured his third consecutive term in the landslide election.
"Viktor, give us back democracy", "We want freedom of the press", and "Regime change," they chanted, as they marched through central Budapest.
"Our main goal is to dismantle Fidesz control over the public media ... but opposition parties also have a task as they are also responsible for this situation we are in," organizers said in a Facebook post before the rally.
At the rally, which, according to some estimates, assembled up to 100,000 people, activists heard speeches from leaders of various student unions and NGOs, who called for the opposition to unite and unseat the government. Some of the speakers also called on the government to reconsider its effort to push through the 'Stop Soros' bill.
Immediately following the Fidesz victory, a spokesman for the party noted that the new parliament aims to pass the 'Stop Soros' legislation, which would allow the government to ban NGOs that pose a "national security risk." The bill would also impose a 25 percent tax on foreign donations to NGOs that support migrants in Hungary.
The Open Society Foundations, founded by American-Hungarian financier George Soros, this week stated that they are "considering various options" to guarantee "security" of their staff and continue their operations in Hungary even if the parliament passes the law.
Prime Minister Viktor Orban, who repeatedly spoke out against Soros' and other NGO's detrimental agendas, on Friday once again accused the billionaire of meddling in Hungary's sovereign politics, through his funding of the opposition.
READ MORE: George Soros may close his NGO's Budapest office amid 'political hostility' – report
"I know they won't accept the result of the election, they will organize all sorts of things, they have unlimited financial resources," Orban told the state radio.
Think your friends would be interested? Share this story!
You can share this story on social media: