Robots & APCs: Anti-terrorist units eliminate nine militants in Russia's Dagestan (VIDEO)
Published time: 21 Apr, 2018 21:39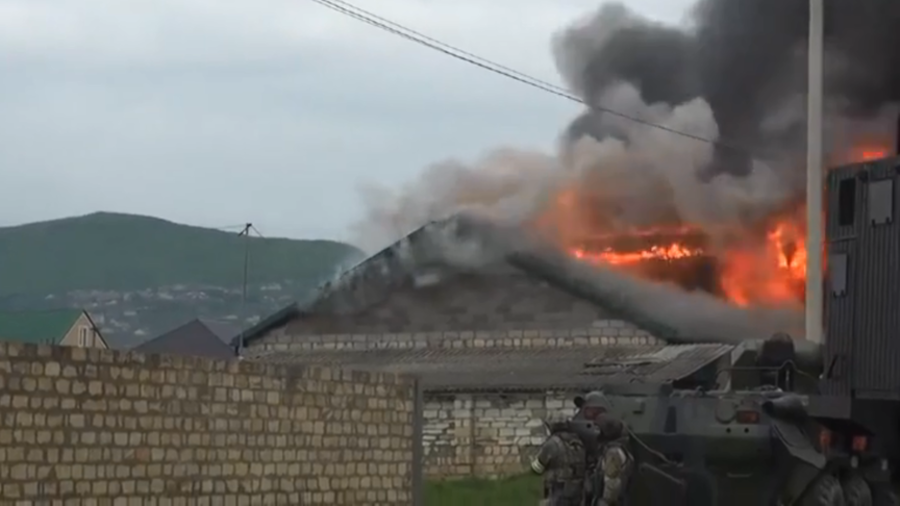 Operatives of the Federal Security Service (FSB) deployed a tiny machinegun-wielding robot along with armored vehicles as they engaged with a group of terrorists in Russia's southern republic of Dagestan, killing nine of them.
Russia's anti-terrorism committee has released a short video in the aftermath of the large-scale operation, in the Dagestan city of Derbent. The short footage features armored FSB trucks and an armored personnel carrier (APC) engaging the militants, who were holed up in a residential building.
At one point the operatives even deployed a tiny machinegun-wielding robot, which also took part in battling the suspects, who violently resisted the security forces. A large fire broke out in the building during the operation.
READ MORE: ISIS terrorist plotted bombing of local security service HQ in Russia, killed by FSB
In total, nine militants were killed in Derbent in two separate firefights, the committee reports. One special operative was slightly wounded during the operation. It remained unclear if any of the militants were detained by security forces. The militants were plotting to commit terrorist attacks in the town, during the upcoming celebrations of the early May holidays, the committee said.
If you like this story, share it with a friend!