'Looks like a Norwegian troll': Bust of former Swedish PM mocked mercilessly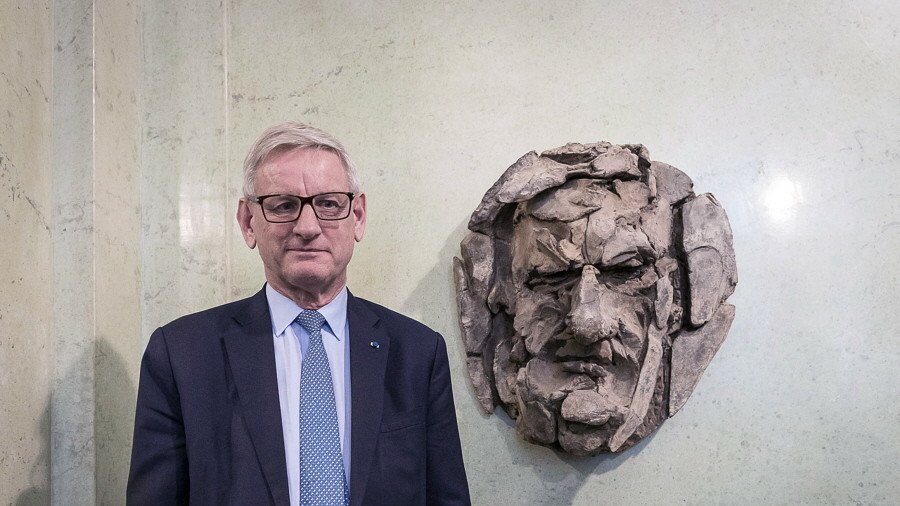 A newly unveiled sculpture of former Swedish Prime Minister Carl Bildt is already drawing attention online – for its apparent likeness to a mythical Middle Earth creature.
According to some social media users, the bronze bust looks more at home on a film set for the 'Lord of the Rings' franchise than in the hallway of Swedish parliament.
The medallion, created by artist Rune Rydelius and made by Leif Schörlin and his team at Herman Bergman Konstgjuteri AB, was revealed at a ceremony in parliamentary buildings earlier this week.
Bildt himself appeared to see the humorous side of his fearsome memorial, tweeting a photo of himself posing with the likeness and the comment, "I hope this will not scare too many people away from the parliament building in Stockholm."
Norwegian Prime Minister Erna Solberg was among the first with a quick-witted reply, posting an image of a Norwegian troll and pointing out its similarity with the statue.
Other political figures took a more diplomatic view of the piece, meanwhile, with Sweden's Ambassador to France Veronika Wand-Danielsson describing the work as "similar to Gerard Depardieu but more handsome," while Speaker of the Riksdag (Swedish parliament) Talman Urban Ahlin, simply called it "a bold work."
Social media users, however, did not mince their words and delighted in pointing out similarities between the artwork and Ents - the talking trees depicted in the Lord of the Rings.
Another Twitter user went as far as to liken the creation to a pine cone. Others reassured the former president that the portrait wasn't as bad as the infamous Cristiano Ronaldo statue which was mercilessly ridiculed on social media when unveiled last year.
The medallion now stands above the staircase in the Eastern Parliament House. Bildt, who is a co-chair on the European Council of Foreign Relations, said in a press statement that he was "deeply honored" to have a medallion at the site.
Bildt acted as an EU High Representative for Bosnia in the 1990s and was one of three people suggested by George Soros to be a senior EU mediator in Albania during a period of civil unrest in 2011. Soros proposed the nomination in an email to Hillary Clinton, which was later released by Wikileaks.
READ MORE: #Podesta conspiracy 2.0: Ex-Swedish PM & Soros ally Bildt makes false RT-WikiLeaks claims
He also sat on the board of the scandal-ridden Lundin Oil which was investigated for alleged human rights abuses in Sudan in the late '90s and early 2000s. Two Swedish investigative journalists were imprisoned for terrorist-related offenses while looking into Lundin's business dealings in Ethiopia in December 2011.
Think your friends would be interested? Share this story!
You can share this story on social media: