'Do not insult my country': Duterte brands 71yo Aussie nun an 'undesirable alien'
Published time: 18 Apr, 2018 15:09
Edited time: 19 Apr, 2018 08:46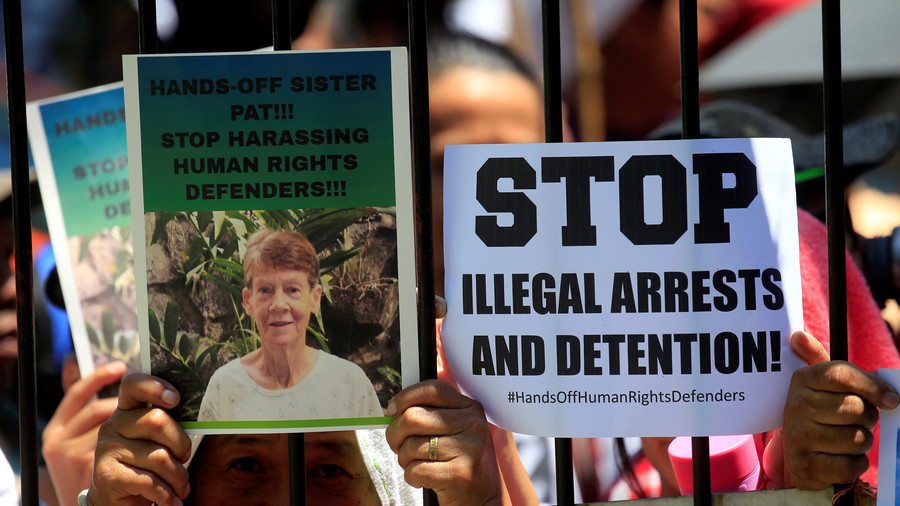 Philippines President Rodrigo Duterte has said he ordered the detention of a 71-year-old Australian nun Patricia Fox because, under the law, he has the right to deport "undesirable aliens.".
Sister Patricia Fox, who has lived in the Philippines for 27 years, is accused of conducting illegal political activities which breach the terms of her visa. Authorities also say she has attended political rallies in the southern island province of Mindanao which has been under martial law since being seized by an Islamic State-linked militants last May.
The nun was detained for "disorderly conduct" on Monday and held at the immigration bureau in Manila for nearly 24 hours. "It was not the military who arrested the Catholic nun from Australia," the Inquirer quotes Duterte as saying. "It was upon my orders implemented by the Bureau of Immigration. And I take full responsibility, legal or otherwise, for this incident."
READ MORE: 'It's illegal and I will arrest you': Duterte threatens International Criminal Court prosecutor

The president went on to say that he could take criticism from all walks of life in the Philippines but drew the line at being insulted by foreigners. Duterte said that it was a "violation of sovereignty," and that foreigners did not "have the right to criticise us" before adding "do not insult my country."
The Philippines leader advised Fox to instead "correct the abuses within your organization," and suggested that she shine a light on her home nation of Australia. "Why don't you criticize your own government, the way you handle the refugees, hungry and dying and you turn them back to the open sea," he said.
The president may have been referring to the Papua New Guinea island of Manus at which hundreds of migrants seeking refuge and asylum in Australia remain stranded since the detention camp was officially closed last November.
The UN has called on Australia to "stop a humanitarian emergency unfolding on Manus Island". Australia responded that the government of Papua New Guinea is responsible for the site.
Australia has also been criticized for turning back boats full of asylum seekers entering its waters. In a 2015 report Amnesty International outlined what it said was "damning evidence of Australian officials paying boat crews to return people seeking asylum to Indonesia and abusive treatment of the women, men and children on board."
Think your friends would be interested? Share this story!