OPCW chemical weapons inspectors enter Douma – Syrian state media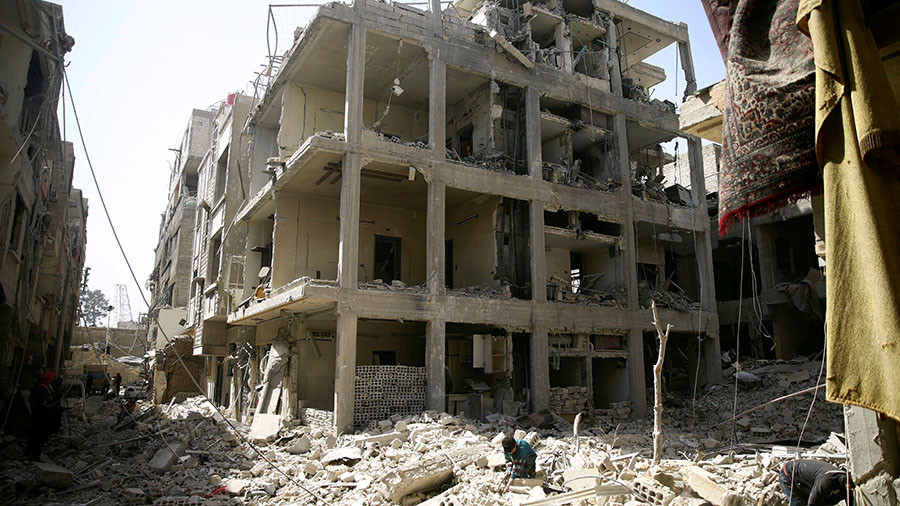 A team of inspectors from the Organization for the Prohibition of Chemical Weapons (OPCW) has arrived in the Syrian town of Douma, to investigate an alleged attack from two weeks ago, Syrian state media reported.
The team arrived in Syria earlier this week, but its deployment on the ground in the Damascus suburb was slowed down by "security concerns." Douma was freed by Syrian government forces last week, after a Russia-brokered agreement with Jaysh al-Islam militants occupying the town resulted in their mass evacuation to Syria's north. Civilians who had been forced to endure life under the militants left the town through humanitarian corridors in their thousands.
READ MORE: 'Oxygen starvation, not gas': Veteran UK reporter Fisk doubts MSM narrative on Douma 'chem attack'
The alleged chemical weapons attack on April 7 was used by the US, Britain and France to justify an attack last weekend against targets which they called essential for Syria's chemical weapons program. Damascus insists that it has destroyed all chemical weapons stockpiles after joining the Chemical Weapons Convention in 2015, the treaty that created the OPCW as its watchdog. Russia said the incident was staged and accused Britain of having a hand in fabricating a pretext for the tri-party attack against Syria.
On April 12 and 13, the site of the alleged attack was visited by Russian military specialists, who checked the area for possible contamination with toxic agents. Moscow said they didn't find any evidence of a chemical attack and rejected Western claims that Russia was deliberately stalling the OPCW inspection to destroy all evidence of the attack.
"It was definitely impossible. We were accompanied by the militants [who used to control Douma]," said Maj. Gen. Igor Kirillov, head of Russia's Radiation Chemical and Biological protection troops, describing the inspection to journalists at The Hague on Monday.
The Syrian authorities also allowed some foreign journalists to visit Douma, and some of the reports coming from the town have been highly skeptical about the reported attack.
Think your friends would be interested? Share this story!