Clashes and tear gas in Indian city as protests over rape of 8yo Muslim girl turn violent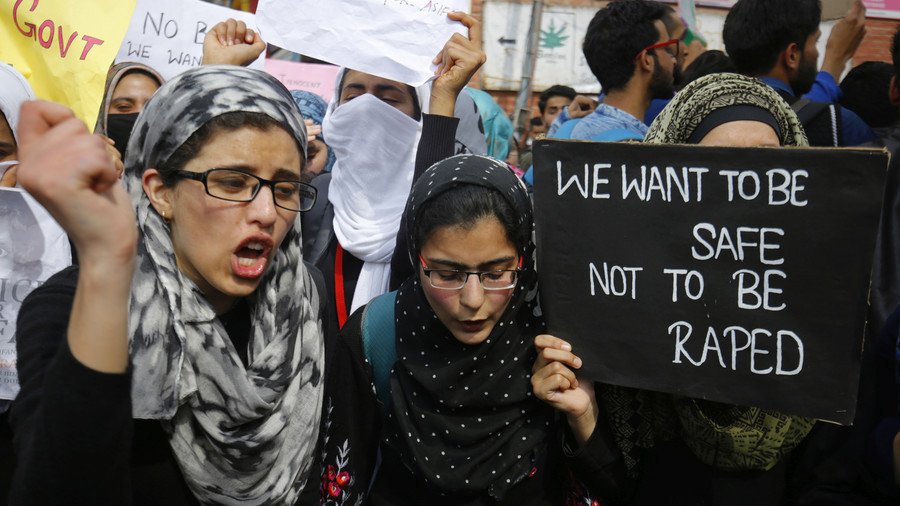 Protesters demanding justice for an eight-year-old Muslim girl, who was gang raped and killed in India's Jammu and Kashmir state, have clashed with security forces in the city of Sopore.
Numerous large protests have taken place in several Indian cities as demonstrators voice their outrage at the killing of Asifa Bano which has resulted in eight men, including a police officer and a former revenue official, stand trial for her gang-rape and murder.
In Sopore, dozens of students from the Degree College Sopore took to the streets on Tuesday when the institution reopened following security concerns.
READ MORE: India's rape crisis: New assault case emerges amid sex assault protests and hunger strike
The students chanted demands that the perpetrators be brought to justice and carried placards criticizing the Indian government for protecting the alleged rapists.
However, the protest turned violent when security forces stopped the demonstration from advancing down the street, United News of India reports. Security forces fired tear gas at the protesters who responded by throwing stones.
In the nearby city of Srinagar protesters chanted "Asifa" and carried placards demanding that rapists be hanged. "As soon as possible we want justice for her, if not this is going to take a very violent step from us," one of the demonstrators said to Ruptly. "We, the students, are not going to tolerate this anymore."
Protesters marched through the town with placards and banners before holding a candlelit vigil.
The demonstrations come amid fears the case could exacerbate unrest in Kashmir where security forces are battling a long-running insurgency. Reuters reports that separatist leader Mirwaiz Umar Farooq has vowed to launch a mass agitation if any attempt is made to shield culprits or sabotage investigations.
According to the charge sheet, the rape and killing of the child was part of a plan to drive nomads out of the mostly Hindu Kathua region of Jammu and Kashmir, which is India's only Muslim majority state. The eight men on trial have all pleaded not guilty. The accused's lawyer Ankur Sharma says the men are willing to take a lie-detector test.
Think your friends would be interested? Share this story!
You can share this story on social media: