Actions similar to coalition strikes in Syria will lead to chaos in international relations – Putin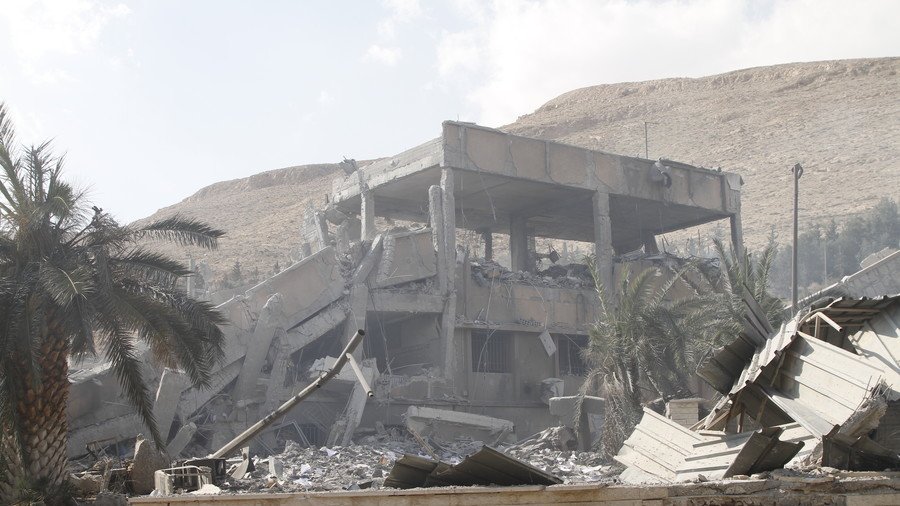 The strikes launched by the US and its allies against Syria have seriously damaged the Syrian peace process, Russian President Vladimir Putin said. If such actions continue, it would have grave consequences for the world, he said.
"If such actions that are carried out in violation of the UN Charter continue that would inevitably lead to chaos in the international relations," the Kremlin said, citing the Russian leader. Putin made his statements during a phone conversation with his Iranian counterpart, Hassan Rouhani.
The two leaders exchanged their views on the situation in Syria, following the massive missile strike launched by the US, the UK and France that targeted Syria's military and civilian infrastructure. Both presidents denounced the actions of the Western states by calling them an "illegal" act that was deleterious to the Syrian peace process.
Earlier, the Russian president condemned the strikes by saying that Washington launched "an aggression against a sovereign state which is at the forefront of the fight against terrorism." At that time, Putin said that the attack was carried out in violation of the "principles of international law," as it was not authorized by the UN Security Council.
Washington and its allies unleashed the bombardment in the early hours of Saturday morning in retaliation for the alleged chemical attack in the Syrian city of Douma, located some 10 kilometers from Damascus. The Western countries immediately pinned the blame for the incident on the Syrian government and conducted the strike even before a team of investigators from the Organization for the Prohibition of Chemical Weapons (OPCW) was able to reach the scene of the alleged attack to determine whether it had indeed taken place.
The US, the UK and France launched 103 cruise missiles during the attack. At least 71 of them were intercepted by Syrian air defense forces, according to the data from the Russian Defense Ministry. Following the attack, Russia called an emergency meeting of the UN Security Council to discuss the aggressive actions of the US and its allies.
During the meeting, Russian Envoy to the UN Vassily Nebenzia denounced the strikes by calling them "hooliganism" in international relations and "an aggression against a sovereign state." The US and its allies maintained that their actions were "justified, legitimate and proportionate."
The Russian draft resolution that called on Washington and its allies to stop their aggression against Syria and "refrain from further aggressive acts in violation of the international law and the UN Charter" was rejected by the UNSC.
The US, the UK and France then prepared their own resolution. On Sunday, Russian Deputy Foreign Minister Sergey Ryabkov said that Moscow would study this draft "with a critical eye," adding that Russia has its own "red lines" regarding UNSC resolutions on Syria.
You can share this story on social media: