US behavior over alleged Douma attack is 'unworthy' of permanent UNSC status – Russian envoy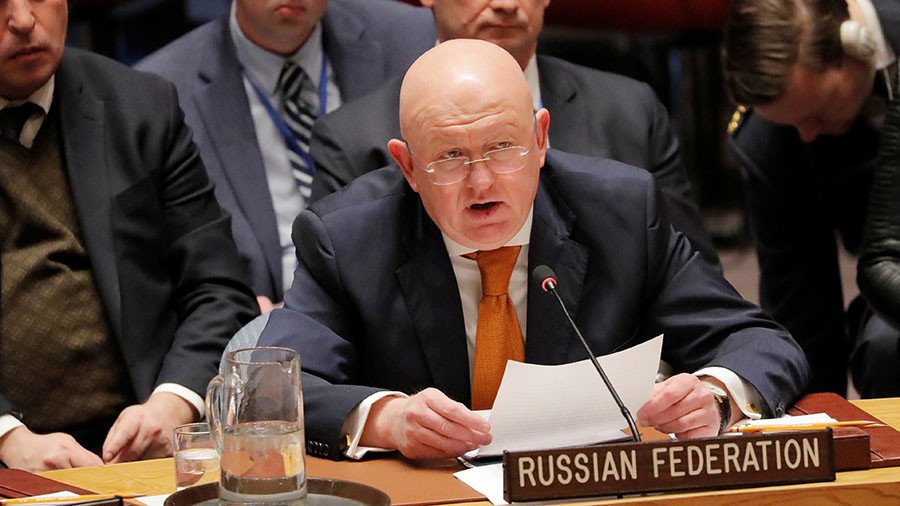 Washington's behavior in light of the situation in Syria and the threats against the country are "not worthy" of a permanent member of the UN Security Council, Russia's envoy to UN, Vassily Nebenzia said.
"The irresponsible behavior of the US, trampling on the international law and on the sovereignty of the other countries is unworthy of their status as a permanent member of the UN Security Council. This status needs the highest degree of responsibility, and not the right to saber rattle, inexistent in the international behavior code," Nebenzia stated.
The whole situation with the threats against Syria, made by the US and its allies, resembles their previous aggressive actions, namely in Iraq and Libya, when the UN was used simply to justify their steps, the Russian envoy added.
"The perpetrators are named before any investigation, and apparently they are to be punished," Nebenzia said. "The US has adopted a largely consumerist approach to the UNSC. The Security Council is needed for them simply to cover the Iraqi test tubes or the Libyan no-flight zone. You are showing us the same virtual empty test tube now, too."
'West should change its mind on Syria and not bring world to a dangerous line'
Nebenzia warned the US and its allies against taking any military action in Syria, as it might lead to grave consequences for the whole world, especially given the fact that Russian troops are deployed to the country. The diplomat urged the leadership of these countries to "return into the legal field and do not bring the world to a dangerous line."
He reiterated that Russian military specialists explored the site of the alleged attack and found no traces of any banned chemicals or victims, adding that even "locals heard nothing about the attack."
The US representative to the UN, Nikki Haley, once again squarely pinned the blame on Damascus for the purported incident. She also claimed that Syria had used chemical weapons some 50 times, citing Washington's estimates, while accusing Russia of being the actual threat to the international peace due to its "shielding" of the Syrian government in the UNSC.
"Our president has not yet made a decision about possible action in Syria. But should the United States and our allies decide to act in Syria, it will be in defense of a principle on which we all agree," Haley said.
You can share this story on social media: