Put down that beer! Alcohol consumption guidelines may shorten your life, study says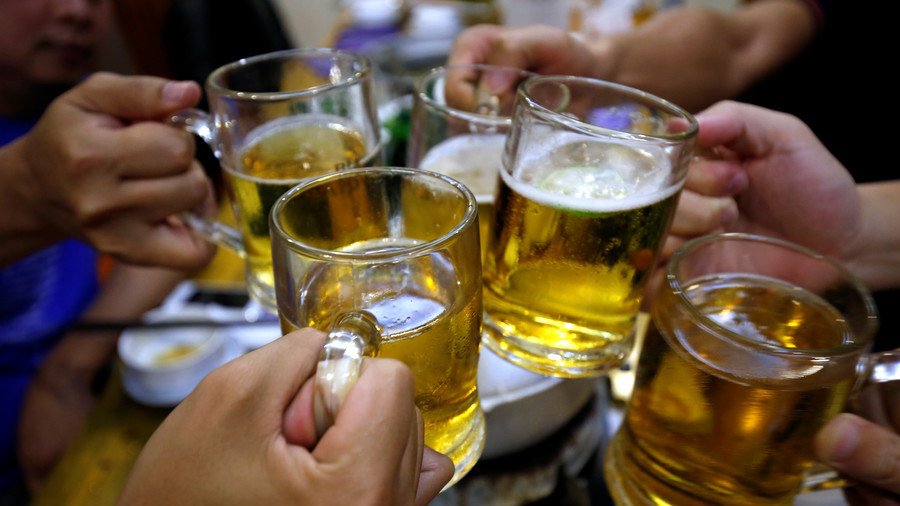 If you enjoy kicking back with a few beers at the end of a long day, you may want to change your ways. A study found that even staying within recommended alcohol intake limits of many countries may shorten your life expectancy.
Anyone who enjoys the sound of a wine bottle being uncorked or a beer can being popped will likely find the research upsetting. The study, which was published in the Lancet medical journal, found that drinking more than 100 grams (3.5 ounces) of alcohol per week – around five or six glasses of wine or pints of beer – can lead to a shorter life expectancy and "adverse health outcomes" for both men and women.
The news is somewhat startling, as many countries have recommended weekly limits which are higher than that amount. "Recommended limits in Italy, Portugal, and Spain are almost 50 percent higher than this, and in the USA, the upper limit for men is nearly double," the researchers said, as quoted by AFP.
For instance, the study found that drinking the equivalent of 100-200 grams of pure alcohol a week shortened life expectancy by about six months, compared to drinking less than 100 grams. But drinking up to 196 grams – or 11 glasses of wine per week – is deemed perfectly acceptable for men in the United States.
In addition, drinking between 200-350 grams per week lowered life expectancy by one to two years, while more than 350 grams lowering it by up to five years.
Meanwhile, the researchers also found that a person's risk of stroke and heart failure increases when the amount of alcohol consumed increases. Alcohol was, however, linked to a lower risk of non-fatal heart attacks.
To reach their conclusions, the international team of researchers analyzed data on nearly 600,000 drinkers between the age of 30 and 100, from 83 studies in 19 high-income countries. Those who were analyzed had been observed for at least a year after signing up for their respective study.
Other health-related data such as age, gender, diabetes history, smoking habits, and socio-economic status were also taken into consideration. The researchers ultimately found that among the group, 40,310 deaths had taken place. Those deaths were then examined alongside the participants' self-reported levels of alcohol consumption.
"These data support adoption of lower limits of alcohol consumption than are recommended in most current guidelines," says the study.
There is, however, a silver lining – at least for women. The study found no evidence that alcohol consumption guidelines should be lower for females than males, despite most countries recommending that women drink less than men.
If you like this story, share it with a friend!
You can share this story on social media: