No politics: American, Russian students chat with ISS cosmonauts and 'float' onboard (VIDEO)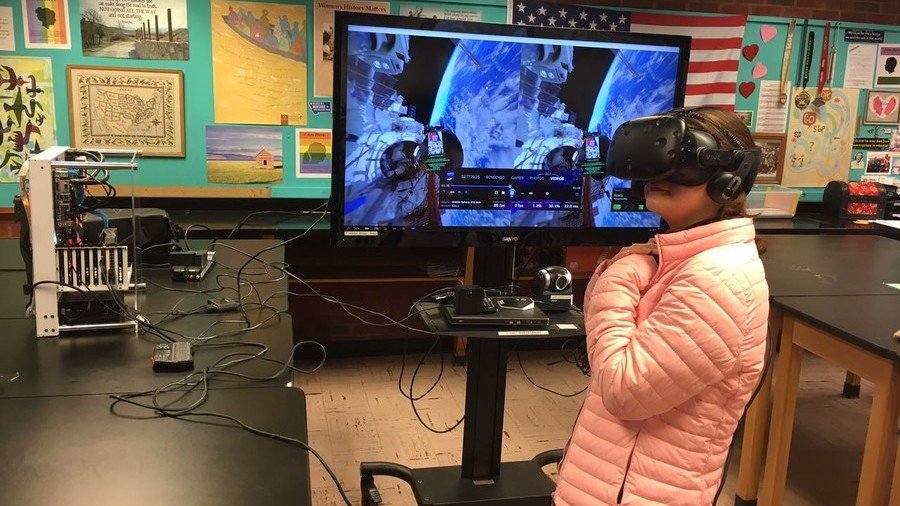 A group of American students chatted with Russian cosmonauts and even took a tour of the International Space Station – all while sitting in their Montana classroom. RT360 helped to organize the unique space lesson.
High school students in Bozeman, Montana, spoke with Russian cosmonauts via a video link as part of RT's "Space Lessons" education project launched in December. The other-worldly video conference also included students from Russia, who enjoyed speaking with their American counterparts about science and unrelated teen topics.
During the live feed, the students learned about the importance of portholes on the spacecraft (spoiler alert: They're very important), before getting a chance to launch a few questions at the Russian cosmonauts on board the ISS.
Students share their VR spacewalk experience… one confirms – the Earth is not flat!
Bozeman High student Hayden Moran asked cosmonaut Oleg Artemyev if it was difficult having lunch in space.
"If you don't use a tissue, it goes everywhere," Artemyev said while floating in the space station. "The next day you remember the tissue. But then you forget again."
Check out whether it's possible to sunbathe in space, if the ISS crew members hear when aliens knock on the window, and what you can do in your free time aboard the space station.
A final surprise awaited the students after the lesson finished: a chance to float around the space station – made possible by RT360 and a few virtual-reality headsets. The technology provides a 360-degree, panoramic view from the ISS. One Bozeman student said that his VR spacewalk experience was so convincing that he actually started to feel a bit ill.
And with the amazing views, came a sense of human achievement – and international cooperation.
"I have been so excited about this," said Lynn Powers, the president of the Southwest Montana Astronomical Society. "I grew up with the space race." To see astronauts and cosmonauts collaborating in space, instead of competing, was "amazing," she said. Powers was responsible for Bozeman High's participation in the program after a friend from Astronomers Without Borders told her about the project.
"The International Space Station is one of the few places where international cooperation is still a part of everyday life. I am excited that today not only do we get to share what we do up in space, but also show that cooperation between Americans and Russians is not only possible but is welcomed," said Russian cosmonaut Andrei Borisenko, who was aboard the ISS last year and narrated the first episodes of RT's Space 360 project.
"The US and Russia have remarkable cooperation in space," said Eduard Chizhikov, head of RT360. "It is a great example of what we can achieve together."
The unique space lesson coincided with Cosmonautics Day, which is celebrated on April 12 in Russia. On that day in 1961, Soviet cosmonaut Yuri Gagarin made the first manned space flight aboard the Vostok 1 spacecraft.
ENJOY THE FULL VIDEO OF THE UNIQUE LESSON HERE
You can share this story on social media: