US carrier group to reach Persian Gulf only by May – Russian MoD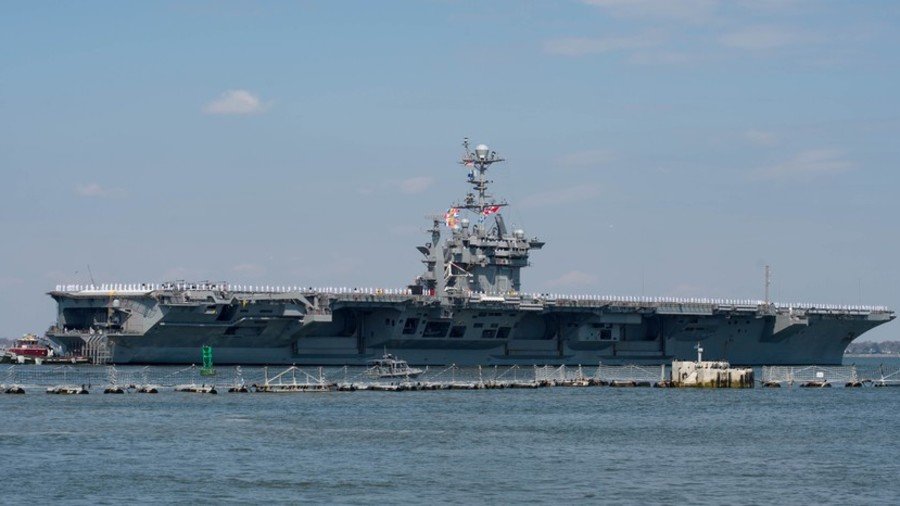 The US carrier strike group led by the aircraft carrier USS Harry S. Truman is expected to reach the Persian Gulf in May, a Russian top brass officer said, adding such a deployment was an "established practice" of the US Navy.
"We are aware that the US carrier group led by the aircraft carrier USS Harry S. Truman and escort ships are heading towards the Persian Gulf and are scheduled to arrive in about early May," Lieutenant General Viktor Poznikhir said. "That is an established practice of US Navy's presence in the region."
The departure of the carrier group from Norfolk, Virginia, to the Middle East and European regions was confirmed earlier on Wednesday. The deployment came amid soaring tensions with Syria, as top officials in the US and other Western countries are threatening to take military action against the country.
The escalation followed the alleged chemical incident in the militant-held town of Douma. Pro-militant sources claimed that government troops targeted the area with chlorine-filled munitions, which killed and injured scores of civilians. However, the Russian military, which investigated the site of the alleged chemical attack that has been surrendered to the Syrian government by the militants since then, said that "no traces" of chemical weapons could be found. No victims of the purported attack were found either.
Moscow called for an international probe into the allegations and urged all the countries to refrain from taking any unilateral military steps. Russia said it would shoot down any incoming munitions and target the launch sites. On Wednesday, however, US President Donald Trump threatened to launch "nice and new and 'smart'" missiles on Syria via Twitter and told Russia to "get ready" for it.
If you like this story, share it with a friend!
You can share this story on social media: