Ferrari F1 mechanic breaks leg in grisly pit stop accident (GRAPHIC VIDEO)
Published time: 9 Apr, 2018 00:34
Edited time: 9 Apr, 2018 08:28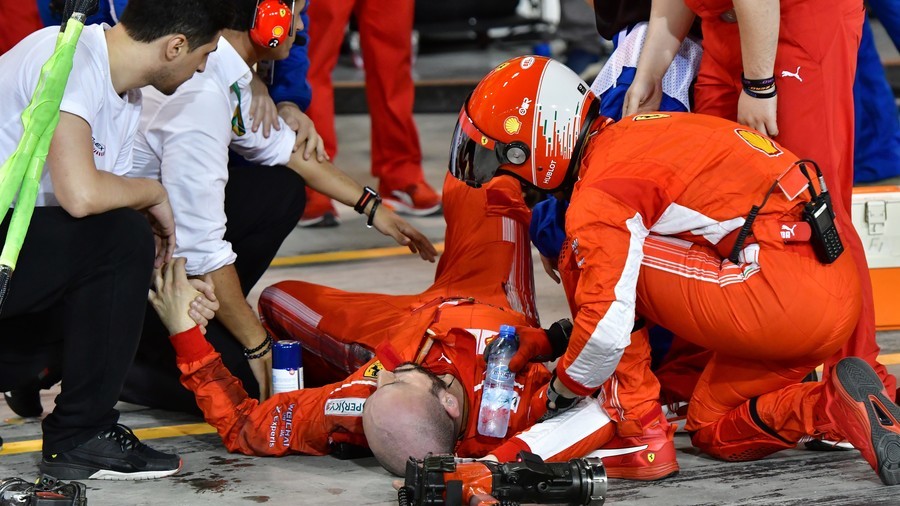 If Kimi Raikkonen's Bahrain Grand Prix didn't go to plan, then spare a thought for one of his mechanics who suffered a double leg fracture after being struck accidentally by the Ferrari driver's F1 car.
The Finnish F1 driver failed to complete the circuit in Bahrain on Sunday and, to make matters worse, he was involved in a grisly pit stop mix-up. After entering the pit stop in third position, Raikkonen was given the greenlight to resume racing. However, the signal appears to have come too soon, with one Ferrari mechanic still replacing a wheel on the car.
Footage of the incident shows how the back tire of the powerful F1 vehicle strikes the Ferrari mechanic as Raikkonen speeds off back to the circuit. The force sees the man's leg buckle, with his teammates immediately rushing to his aid. According to Ferrari, pit crew member Francesco Cigarini suffered a shinbone and fibula fracture.
The horrendous incident also led to Raikkonen retiring from the race early, due to a problem with the wheel of his car.
Eventual winner of the Bahrain GP, Sebastian Vettel, offered his thoughts to the injured mechanic. "It's a mixed feeling day, I'm sending my best wishes to him. I know our guys are all taking care of him," the Ferrari driver said.
In an interview immediately after the race, Raikkonen reacted to the incident by saying: "I don't know what shape he is in. For sure, it is not great for him . I go when the light is green. I don't see what happens behind and unfortunately he got hurt. My job is to go when the light is green, I don't know more than that and hopefully he is okay."
Cigarini later posted an Instagram update showing his full-leg cast and thanking people for their concern.
Think your friends would be interested? Share this story!