Russian Embassy in UK seeks meeting with Boris Johnson, says it's 'high time' to talk Skripal case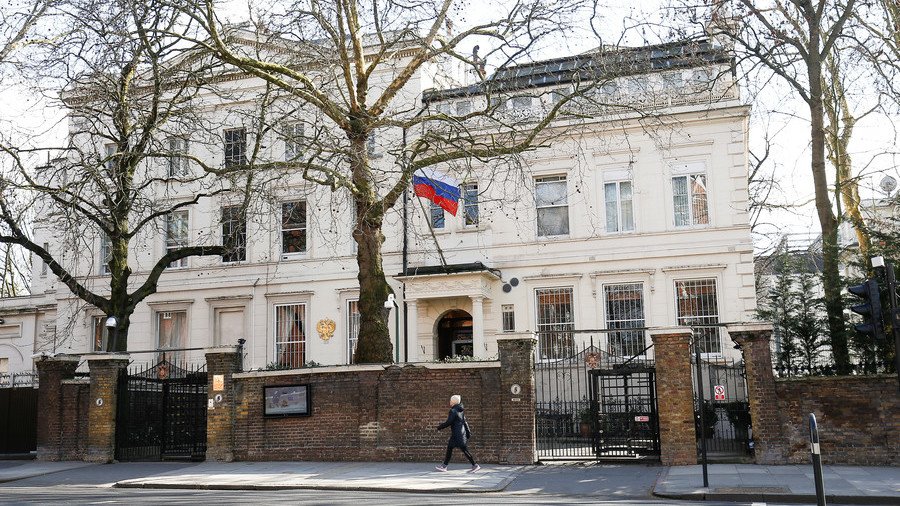 The Russian Embassy in London has requested a meeting with UK Foreign Secretary Boris Johnson, saying that discussing the Skripal case and other issues regarding Russia-UK relations is long overdue.
With the saga of the poisoning of Sergei Skripal and his daughter unfolding and London not backing down on claims of Moscow's guilt, the embassy bemoaned the level of communication with the UK Foreign Office. Calling it "utterly unsatisfactory," the diplomatic mission called for the situation to be reversed.
"We believe that it is high time to arrange a meeting between Ambassador Alexander Yakovenko and Foreign Secretary Boris Johnson in order to discuss the whole range of bilateral issues, as well as the investigation of the Salisbury incident," the embassy said in a press release.
The Russian Embassy said that Yakovenko has already sent a request for talks with Johnson to the Foreign Office. "We hope that the British side will engage constructively and that such meeting is arranged shortly." Later on Saturday, London said it received the request and would consider how to proceed.
Relations between Moscow and London remain in shambles after former Russian-UK double agent Sergei Skripal and his daughter Yulia were discovered unconscious on a bench in Salisbury on March 4. The UK said that they were poisoned by a military-grade neve agent of Soviet design (A-234, also known as 'Novichok') and blamed Russia for the attack.
The accusations were followed by sanctions against Russia and the expulsion of Russian diplomats from the UK and other countries which backed Britain's stance, including the US, Germany, France, and Poland.
Moscow denies the claims, calling them "absurd," and offered to cooperate with London in investigating the Skripal case. However, the British side has refused to talk to Moscow on the issue and has left calls to provide proof of Russian involvement in the poisoning unanswered.
READ MORE: Skripal relative denied visa to visit UK and return poisoned relatives to Russia
London has also denied Russian consular staff access to Sergei and Yulia Skripal, despite them being Russian citizens. Earlier this week, Yulia Skripal's cousin Viktoria was denied a UK visa on vague grounds of non-compliance with immigration rules, as she wanted to visit her relatives recovering from the attack in a Salisbury hospital.
Think your friends would be interested? Share this story!
You can share this story on social media: