'Unfair competition': US sanctions really serve military industrial complex – Russian tech giant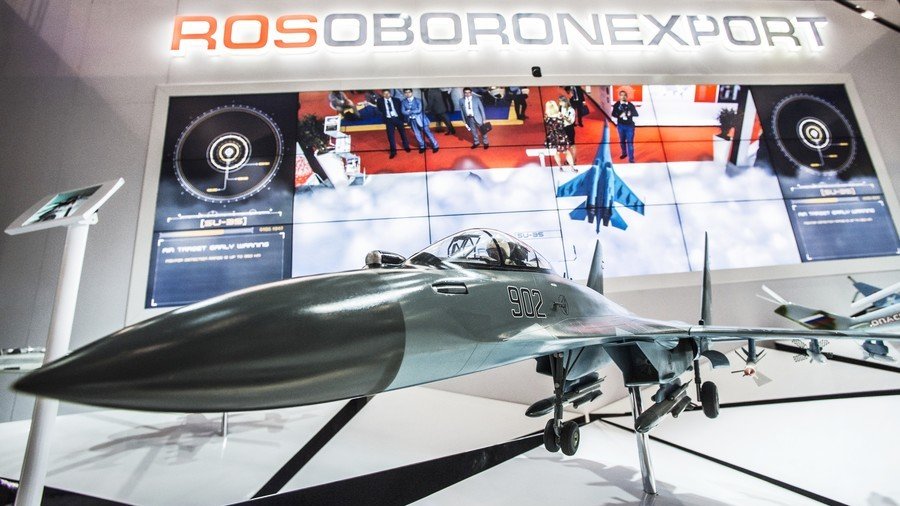 The new US sanctions are aimed at pushing Russia out of the international arms market, including those of Washington's allies, in the interest of the US arms industry, the Russian State Tech Corporation, Rostec, has said.
The fact that Russia's top defense corporation, Rosoboronexport, has been targeted by the latest set of US restrictions has exposed "the real aim of these sanctions," a Rostec spokesperson told Russian media, adding that all Washington's accusations against Moscow were "just an excuse for pushing Russia out of the global arms market."
The Russian corporation denounced the US move as "unfair competition." Rosoboronexport, which is controlled by Rostec, is involved in trading of a wide range of military and dual-purpose products, technologies and services, and it controls most of Russia's arms exports.
On Friday, the US Treasury imposed a set of new measures against Moscow, which it accuses of "a range of malign activity around the globe." In total, 24 Russians and 14 entities were put on the list. Apart from Rosoboronexport, restrictions were also imposed on some major Russian energy companies, such as En+ or Eurosibenergo, as well as diversified industrial groups.
The sanctions also targeted several businessmen and high-ranking Russian officials, including Interior Minister Vladimir Kolokoltsev and ex-FSB head Nikolay Patrushev.
Washington has threatened to sanction Russian defense sector entities for quite some time, amid projections that Russian arms exports were set to grow for the first time in five years. In October 2017, over thirty companies, including Rostec itself, were included in a list of potential sanctions targets.
The US also seems to be concerned by the fact that Russia is successfully penetrating the markets of Washington's close allies and major arms buyers, particularly in the Middle East. Russian armaments have attracted the attention of Bahrain, Egypt, Morocco, Saudi Arabia, the United Arab Emirates and Tunisia.
Saudi Arabia, which is by far the biggest buyer of US arms, sealed a range of arms contracts with Russia back in October 2017 after King Salman bin Abdulaziz Al Saud visited Moscow, becoming the first Saudi monarch to visit Russia. The deals included the supply of S-400 anti-aircraft missile systems, anti-tank guided missiles, heavy flame systems, grenade launchers as well as Kalashnikov AK-103 assault rifles. The parties also agreed to start licensed production of Kalashnikov AK-103 assault rifles in Saudi Arabia. The Russian arms contracts with Saudi Arabia are worth more than $3 billion, according to Russian media.
The Saudis sealed the deals with Russia while continuing to actively purchase weapons in the US. Back in May 2017, US President Donald Trump visited the kingdom, signing a record $350 billion arms deal, the largest in US history. Last month, the US again announced that it plans to sell arms to Riyadh, a deal which will be worth $1 billion.
However, Washington seems to believe that its position on the Middle Eastern arms market is becoming increasingly less secure, as the United Arab Emirates and Qatar, states that rank among the top five US arms buyers, also demonstrated a keen interest in Russian arms.
In 2017, Russian media outlets reported that the United Arab Emirates (UAE) intended to buy more than a squadron of Sukhoi Su-35 advanced fighter jets. Russia and the UAE also plan to develop a light fighter aircraft, based on the MiG-29 jet.
In January 2018, Qatar's Ambassador to Russia, Fahad bin Mohammed Al-Attiyah, said that his country is at an "advanced stage" of negotiating the purchase of Russia's advanced S-400 anti-aircraft system. The diplomat also hailed the military cooperation agreement signed by Doha and Moscow in October 2017, saying that it "opened a path for Russia and Qatar to interact in the defense sphere."
The competition between Moscow and Washington in arms trade extends far beyond the Middle East. India in particular is expected to buy S-400 systems from Russia at a time when the US is struggling to sell its own Patriot missile defense systems to New Delhi. On Thursday, the New York Times reported that India's defense minister is likely to finalize the deal during his forthcoming visit to Moscow, calling it "another potential setback" to the United States' efforts.
The US NATO ally Turkey, meanwhile, not only signed a $2.5 billion agreement with Russia on the procurement of S-400 systems in December 2017, despite the staunch opposition from Washington, but also requested a speed-up of their delivery. After meeting his Turkish counterpart Recep Tayyip Erdogan earlier this month, President Putin confirmed that Russia is speeding up the production and moving forward the delivery date "at the request of our Turkish friends and partners."
The US never made a secret of its intention to 'deter' Russian defense exports, with the US State Department boasting in January about "real success" in those attempts. A senior department official claimed in particular that the US was able to "turn off potential deals that equal several billion dollars." However, when pressured to offer any examples of the deals being successfully torpedoed, the official failed to present even one.
Think your friends would be interested? Share this story!
You can share this story on social media: