'Desert warriors': Astounding 2,500yo carvings found in Peru (VIDEO)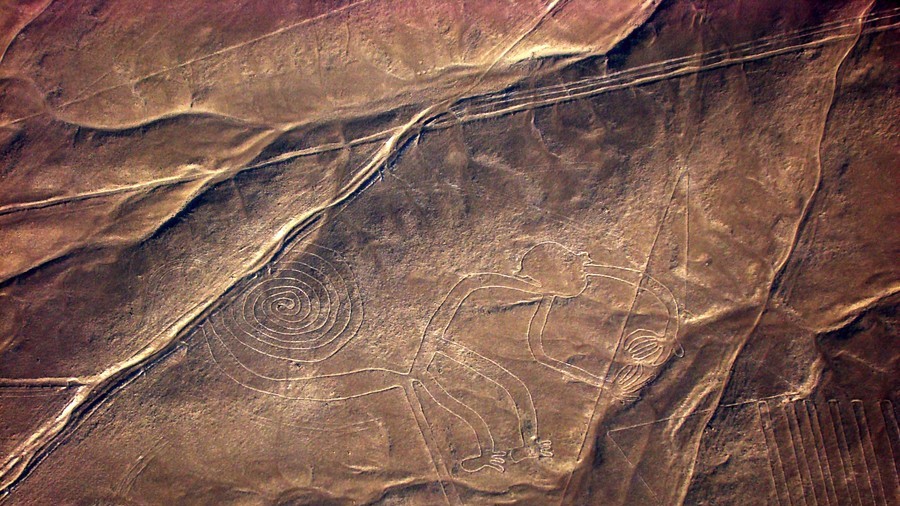 Scores of previously-unknown ancient drawings have been discovered in the Peruvian desert. The phenomenal images are believed to be some 100 years older than those previously found in the area.
Researchers used drones to capture never-before-seen footage of the striking ancient geoglyphs in the Palpa province, finding 50 new examples in the process, National Geographic reports.
The iconic Nasca lines were created more than a millennium ago and are found across the Nasca province in Peru. Now a UNESCO World Heritage site, the markings were made by moving the top layer of red desert pebbles to reveal the paler ones underneath, creating elaborate shapes and designs.
While much of the previously-discovered Nasca lines are believed to have been formed by the Nasca people which inhabited the area from 200-700 AD, some of the 'newer' images are believed to have been the work of the Paracas and Topara cultures between 500 BC and 200 AD.
The new discoveries are largely located on hillsides, where villagers below could see them, although Nasca lines are usually only visible from above. The Paracas drawings also differ from the Nasca in that they tend to feature humans rather than lined patterns.
"Most of these figures are warriors," Peruvian archaeologist Luis Jaime Castillo Butters told National Geographic of the find. "These ones could be spotted from a certain distance, so people had seen them, but over time, they were completely erased."
READ MORE: Greenpeace activists 'damage' ancient Nazca lines, Peru to seek criminal charges
The Peruvian Ministry of Culture received a grant from the US after Greenpeace activists accidentally damaged one of the drawings in 2014. This allowed archaeologist Johny Isla and his team to join forces with Castillo Butters, a professor of archaeology at the Pontifical Catholic University of Peru, National Geographic Explorer and Global Xplorer. They examined satellite imagery to identify areas of interest, and used drones with cameras and 3D scanning to find the new drawings.
Like this story? Share it with a friend!