Bridge too far: High-speed truck collision destroys overpass in epic shunt (VIDEO)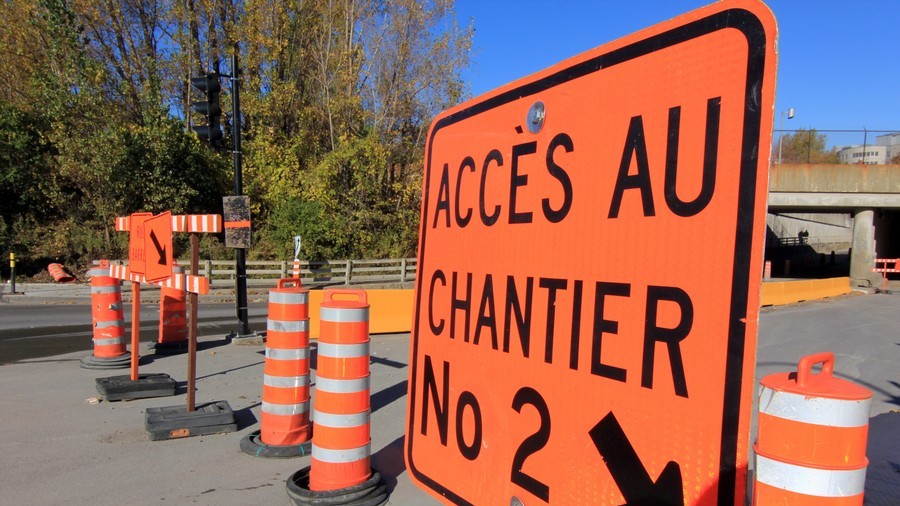 A truck driver could face criminal charges for an extraordinary smash that saw their vehicle plow right into a pedestrian bridge, showering a Canadian motorway with animal feed.
The spectacular crash, caught on camera by a fellow motorist, occurred in Repentigny when the back of the dump truck collided dramatically with a pedestrian overpass, shedding its load in a confetti-like expulsion.
READ MORE: F-16 jet crashes at base outside Las Vegas
Despite the apparent speed of the crash, local reports say nobody was injured in Wednesday's collision. However, the footbridge over the normally-busy stretch of Highway 40 has since been pulled down over safety concerns.
Footage of the incident shows a 14-wheeler truck travelling at speed down the motorway before its raised cargo bed smashes right into the top of the bridge. Pictures taken in the aftermath reveal how the road was closed while the severely-damaged structure was dismantled.
The provincial police force, Suret du Quebec, is now investigating whether the crash was accidental, deliberate or caused by criminal negligence.
"If there are criminal accusations that could be brought, they will be brought," said police spokesperson Daniel Thibodeau.
"At this point, [we're checking if] the signals were functional, was there something wrong with the hydraulics, did something not work, or was something accidentally deployed or ignored," he continued. "These are the elements we're looking at and it could lead to criminal charges."
Think your friends would be interested? Share this story!