OPCW inspection in Russia amid Moscow's calls for transparency in Skripal case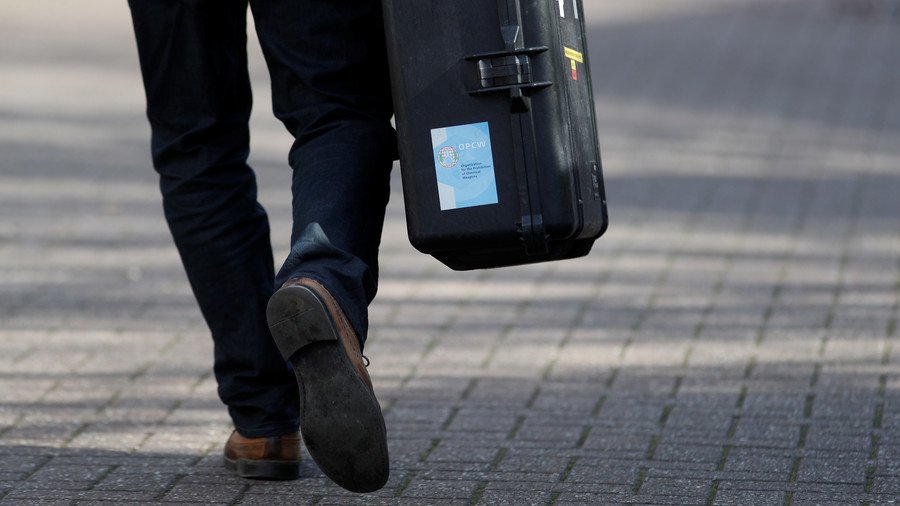 As Moscow urges full transparency in the case of Sergei Skripal's poisoning, experts from the Organization for the Prohibition of Chemical Weapons (OPCW) have paid a visit to Russia.
Inspectors arrived to monitor compliance with the organization's rules last week. The checks were reported by the Russian Defense Ministry's newspaper, Krasnaya Zvezda (Red Star), on Friday. The report, however, didn't elaborate on what exactly the OPCW inspectors were looking at, or where.
The news comes as Russia finds itself at the center of the blame game over the poisoning of former double agent Sergei Skripal and his daughter, Yulia. They were discovered in a critical condition in Salisbury, affected by what the British government claims is a Russian-made nerve agent. The UK authorities swiftly accused the Russian state – an allegation which Moscow has repeatedly denied, while calling for a transparent joint investigation. Moscow's suggestions were rebuffed by London as "perverse" and a "diversionary tactic."
Earlier this week, scientists at the Porton Down chemical weapons lab near Salisbury said they were unable to trace the nerve agent used on the Skripals back to Russia. Shortly afterwards, the UK Foreign Office issued a statement that London stands by its "assessment" of Russia's guilt.
On Wednesday, Russia's proposal for a new, joint probe into the Skripal case was voted down by 15 members of the OPCW governing body in The Hague, with six supporting Russia and 17 abstaining. After the initiative failed, Russian Ambassador to the UK Alexander Yakovenko called on Britain to make public all material relevant to the investigation. He said that while Moscow has no evidence of the UK government's role in the case, London's refusal to cooperate and its campaign to blame Moscow leave Russia wondering about its motives.
Russia then called a UN Security Council session, where its envoy pointed out inconsistencies in the official UK narrative of the Skripal case, and reiterated Moscow's stance that the use of chemical weapons by anyone anywhere is "inadmissible and must be investigated and punished."
The accusations against Moscow have already resulted in the expulsion of over 100 Russian diplomats from a number of EU countries and their allies. The Russians were accused of being "undeclared intelligence officers." The UK led the way with 23 expulsions, and the US sent home 60 and closed down the Russian consulate in Seattle. Most of the other participants expelled one to four people.
Moscow responded in kind, including the closure of the US consulate in St. Petersburg and the expulsion of 60 US diplomats. In addition to booting out 23 British diplomats, it gave London a month to cut its diplomatic presence in the country to the same number of Russian diplomatic staff in Britain.
You can share this story on social media: