Brazilian court orders ex-President Lula jailed, sets Friday deadline to turn himself in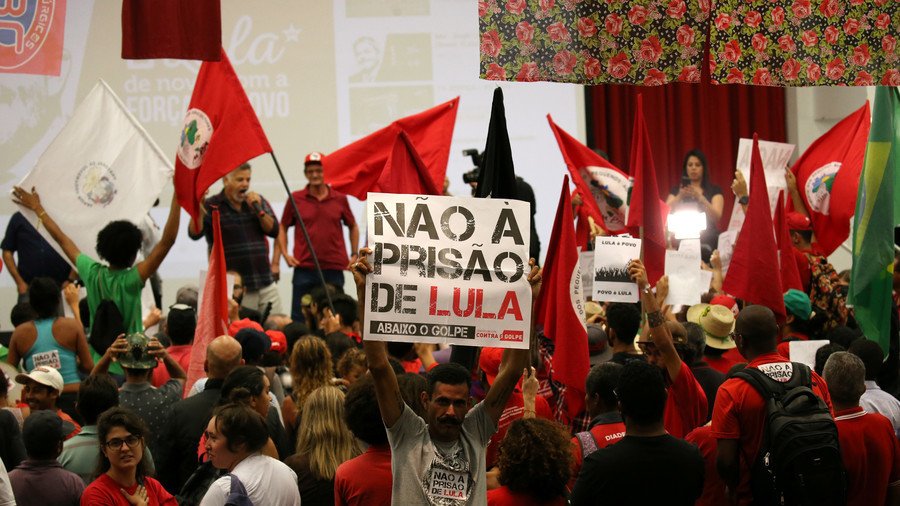 Former Brazilian President Luiz Inacio Lula da Silva has been ordered to turn himself in by Friday afternoon to begin serving his 12 year sentence, after an appeals court authorized his immediate arrest on a conviction for graft.
The arrest warrant was issued by Brazilian federal Judge Sergio Moro on Thursday, a day after Supreme Federal Court (STF) dismissed Lula's plea to remain free while he appeals the corruption conviction, which he dismisses as machinations by his political opponents.
According to the arrest order, Lula has until 5 pm local time Friday to turn himself to Federal Police in Curitiba. Apparently in order to avoid an escalation of tensions with Lula's supporters, the federal judge barred authorities from using handcuffs on the former Brazilian president.
Due to the "dignity of the position" Lula had previously held, he will begin serving his prison term in specially reserved quarters, Moro's office was quoted as saying. "The former president will be separated from the other prisoners, without any risk for moral or physical integrity."
Former Brazilian President Lula da Silva can be jailed on corruption charges, country's supreme court has ruled, dismissing an application to allow him to remain free pending an appeal against those charges https://t.co/gh8z9O67y0

— RT (@RT_com) April 5, 2018
One of Brazil's most popular political figures, da Silva, simply known as Lula, was convicted of money laundering and of passive corruption last July, and was sentenced to nine years behind bars. An appeals court in January upheld Lula's conviction and the court increased his sentence to 12 years. The latest developments would apparently block Lula's re-election bid, despite strong public support.
Lula has strong public support and was widely expected to return to power politics, and even to win the upcoming October presidential elections as a candidate for Brazil's Workers' Party, according to the polls. The head of the Workers' Party warned that jailing Lula will turn the nation into a "banana republic."
"We consider this to be a political imprisonment, an imprisonment that will expose Brazil before the world," said Gleisi Hoffmann, chairwoman of the Workers' Party, according to AP. "We will become a banana republic."
"The Brazilian people have the right to vote for Lula, the candidate of hope," a Workers' Party tweet said earlier. "The Workers' Party will defend this candidacy on the streets and in every court until the last consequences."
Throughout the whole ordeal, Lula has repeatedly denied any wrongdoing and declared himself a victim of political persecution. Speaking to Ecuador's former president Rafael Correa on RT last month, Lula argued that corruption charges have become an "instrument in the moral and ethical fight against opponents."
He said there was a massive media campaign against him and another former Brazilian president, Dilma Rousseff. "There is a conspiracy in Brazil between the media, the judiciary, the prosecution service and police," said Lula. Arguing that it is in the best interest for his country to disentangle itself from the American influence, Lula told RT that a prosperous Brazil is not in Washington's interests.
You can watch the full interview below.
His message, while appealing to vast numbers of his supporters, has further divided Brazilian society, whose current leaders have been deeply embedded in corruption scandals.
Da Silva's protégé, former President Rousseff, was herself ousted in 2016 for manipulating the federal budget to hide the nation's growing economic crisis. Rousseff's replacement, Michel Temer, who took power in 2016 as a member of the Brazilian Democratic Movement, has also been twice charged with corruption, but remained in office after the country's Congress voted to reject the charges filed by the prosecution.
Think your friends would be interested? Share this story!
You can share this story on social media: