Desecration of Eucharist? Drone delivers 'Body of Christ' to altar during Brazil Easter mass (VIDEO)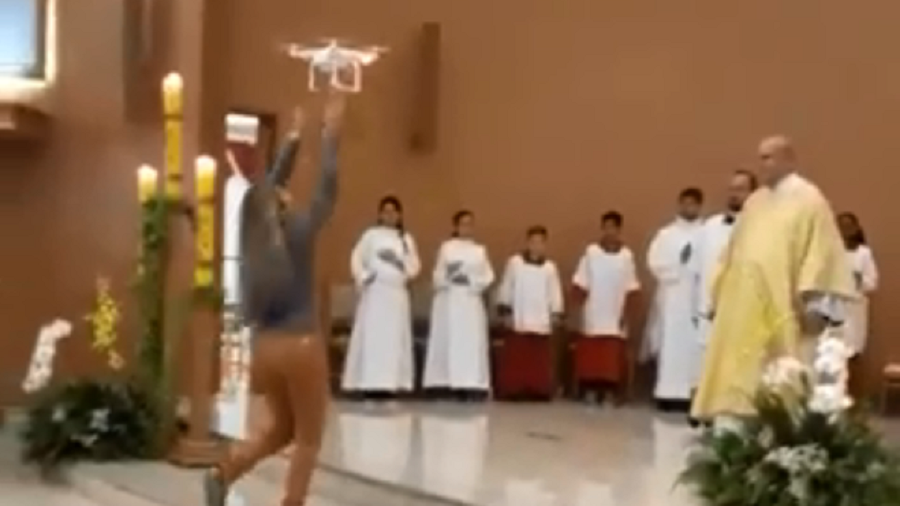 A Catholic church in Brazil has come under fire for its innovative yet controversial approach to carrying the Blessed Sacrament to the altar during an Easter Sunday mass.
Footage recorded at São Geraldo Magela church in the Archdiocese of Sorocaba on Easter Sunday shows a drone flying in the door and delivering the Eucharist to the priest during mass. The congregation cheered and clapped as the drone made its way to the top of the church with the Sacred Host suspended from it.
The experimental altar delivery, however, stoked criticism from more conservative priests and many social media users, who described it as a "mockery" and "disrespectful to the Eucharist."
READ MORE: Pope Francis gets model of Facebook's solar-powered drone designed to 'deliver message of hope'
"This is so sacrilegious," one person commented on the church's Facebook page, adding they would be interested in the pope's opinion on the incident.
Meanwhile a fellow Catholic priest said "they have desecrated the Eucharist. You should be ashamed of these priests."
If you like this story, share it with a friend!
You can share this story on social media: