Pope Francis gets model of Facebook's solar-powered drone designed to 'deliver message of hope'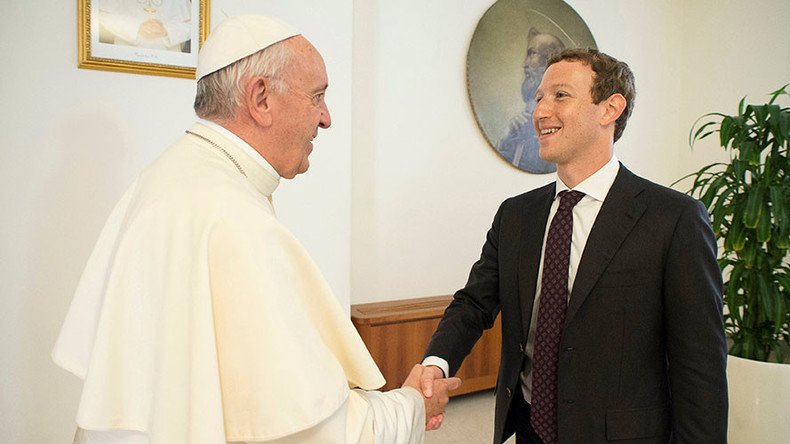 The founder of Facebook and philanthropist Mark Zuckerberg has welcomed the Vatican's dream of alleviating poverty through the use of modern technology by presenting Pope Francis with a scale model of Aquila, Facebook's solar-powered internet-transmitting aircraft.
In a private audience with the head of the Catholic Church, Zuckerberg and his wife took the time to tell Pope Francis of their admiration for "his message of mercy and tenderness, and how he's found new ways to communicate with people of every faith around the world."
Discussing the "importance of connecting people" in remote areas of the world, the 32-year-old wrote in his Facebook post, that he had presented the pontiff with "a model of Aquila, our solar-powered aircraft that will beam internet connectivity to places that don't have it."
In a statement released by the Holy See Press Office, the Vatican acknowledged that Pope Francis and, Zuckerberg spoke about how to use "communication technologies to alleviate poverty, encourage a culture of encounter, and help deliver a message of hope, especially to those people who are most disadvantaged."
READ MORE: 'Big milestone': Facebook test-flies solar-powered, internet-beaming drone (VIDEO)
Facebook Connectivity Lab has been heavily investing in new technologies as a way of bringing internet access to over 1.6 billion people who have no connectivity in remote regions of the planet. The social media giant has been focusing on introducing aircraft, satellites, and wireless communications systems to connect some 60 percent of the global population to the internet.
Last month the Connectivity Lab boasted about the first full-scale test flight of Aquila, a high-altitude, solar-powered drone designed to administer internet in remote locations. If all goes well, Aquila will cover a region of 60 miles in diameter, beaming the internet from an altitude of more than 60,000 feet using "laser communications and millimeter wave systems."
"Aquila is designed to be hyper-efficient, so it can fly for up to three months at a time. The aircraft has the wingspan of an airliner, but at cruising speed, it will consume only 5,000 watts – the same amount as three hair dryers, or a high-end microwave," FB said last month.
READ MORE: 'Terrible & unnatural': Pope Francis slams gender choice being taught to kids
Once operational Aquila will carry a communications payload that will use lasers to transfer data more than 10 times faster than existing systems.
You can share this story on social media: