'I'm not a criminal': Catalonia's independence leader Puigdemont breaks prison silence
Published time: 2 Apr, 2018 15:36
Edited time: 3 Apr, 2018 10:54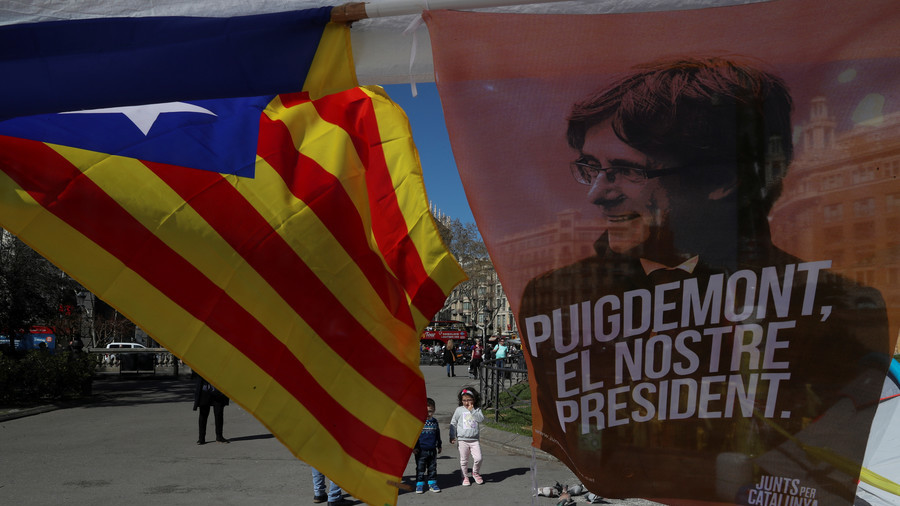 Former Catalan president Carles Puigdemont said he is "not a criminal" in the first interview since his arrest. The exiled leader reaffirmed the region's campaign for independence, saying it's based on democracy and non-violence.
In an interview with two German members of parliament, Puigdemont said: "We are not criminals. We won the elections twice." An audio recording of the interview was published on Monday by weltnetz.de.
Last week, Puigdemont was arrested in Germany on foot of a European warrant issued by Spanish authorities. Spain accuses the 55-year old of organizing a rebellion in the form of an unauthorized referendum. Puigdemont responded to the charges by saying: "The crime of rebellion demands the use of violence, and there is no violence so there is no rebellion."
READ MORE: The new normal: Madrid ratchets up Catalonia independence crackdown (PHOTOS)
The former president faces up to 30 years in prison for the October 2017 referendum, which has been declared illegal by Madrid. German authorities are still considering Spain's request to extradite him.
Vor einer Woche wurde er in Deutschland festgenommen: Carles #Puigdemont. Und genau ein halbes Jahr nach dem Referendum in Katalonien macht er klar: Von einer Unabhängigkeit der Region gebe es "kein Zurück". Online lässt er das ausrichten. pic.twitter.com/cwb6HlxGYh

— ZDF heute (@ZDFheute) April 1, 2018
On Sunday, Catalans took to the streets of Barcelona to protest against his arrest, leading to clashes between police and protesters, which left dozens injured. From his prison cell in the northern town of Neumunster, Puigdemont urged his supporters to keep up the struggle.
"We cannot let down our guard before a state that is becoming more and more authoritarian and that is curtailing our rights. Let's go on doing things the way we do them, which is non-violent and civilized, as we have shown the world in the past years. That is how Catalans do things," he said in a message to pro-independence demonstrators.
READ MORE: Riot police crack down on Catalan demonstrators blocking roadways over Puigdemont's arrest (VIDEOS)
Boasting a distinctive cuisine, language and identity, Catalonia has been struggling for greater autonomy since the 15th century, when King Ferdinand of Aragon (of which Catalonia was a part) married Queen Isabella of Castile, uniting their two realms.
Historically one of Spain's most populous and prosperous regions, Catalonia has long accused Madrid of excessive and unjust taxation. In 2006, the region pushed for greater autonomy – including giving the Catalan language preference over Spanish – but the reforms were struck down by Spanish courts in 2010.
Think your friends would be interested? Share this story!