143k civilians & rebels left E. Ghouta amid humanitarian ceasefire – Russian MoD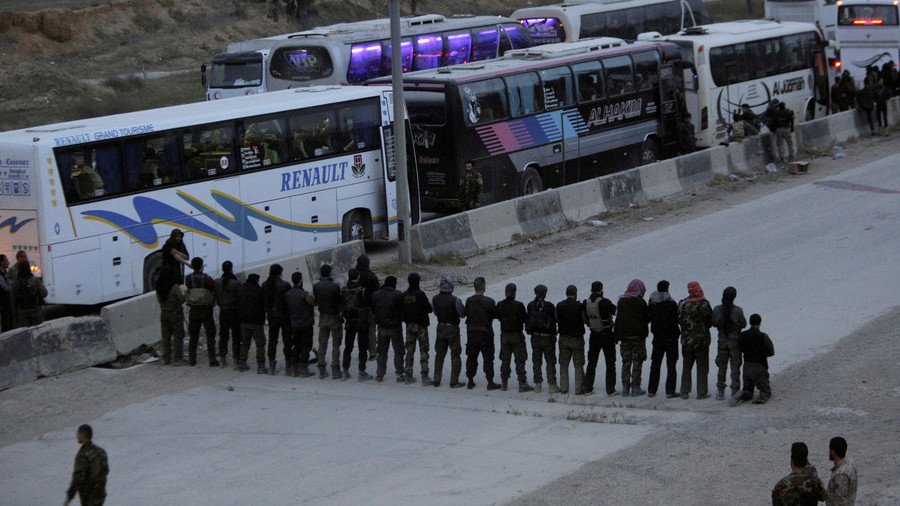 Over 143,000 people, including tens of thousands of rebels and their families, have left Syria's eastern Ghouta amid a ceasefire which also helped some 40,000 residents return to their homes, the Russian military said.
"143,194 people in total, including 105,857 civilians as well as 13,793 militants and 23,544 members of their families have left eastern Ghouta during humanitarian pauses," Sergey Rudskoy, Deputy Chief of Russian General Staff, said at a news briefing on Friday.
The evacuation is being monitored by the UN and other aid agencies, and a live broadcast of escape routes is available on the Russian Defense Ministry's website, it said. Russia's Reconciliation Center is negotiating another evacuation from the town of Douma, one of the last remaining strongholds controlled by militants.
Meanwhile, life is returning to normal in villages and settlements in Ghouta province. Displaced persons are returning to "areas liberated from armed groups," General Rudskoy said, adding that "some 40,000 people have returned to their homes."
The returnees are receiving aid packages delivered by UN agencies and the Russian Reconciliation Center, he said, adding that the "arrival of three UN aid convoys, carrying 445 tons of food, medicine and basic necessities, was ensured since the first humanitarian pause took effect in the enclave."
Daily humanitarian pauses in eastern Ghouta began on February 27 as part of the Syrian military's and Russia's efforts to help civilians leave the combat zone. The Russian military has repeatedly said that the militants are using civilians as human shields, targeting those who are trying to flee the terrorist enclave.
Like this story? Share it with a friend!
You can share this story on social media: