Suicide vests, grenades seized as nearly 20k militants & families leave E. Ghouta – Russian MoD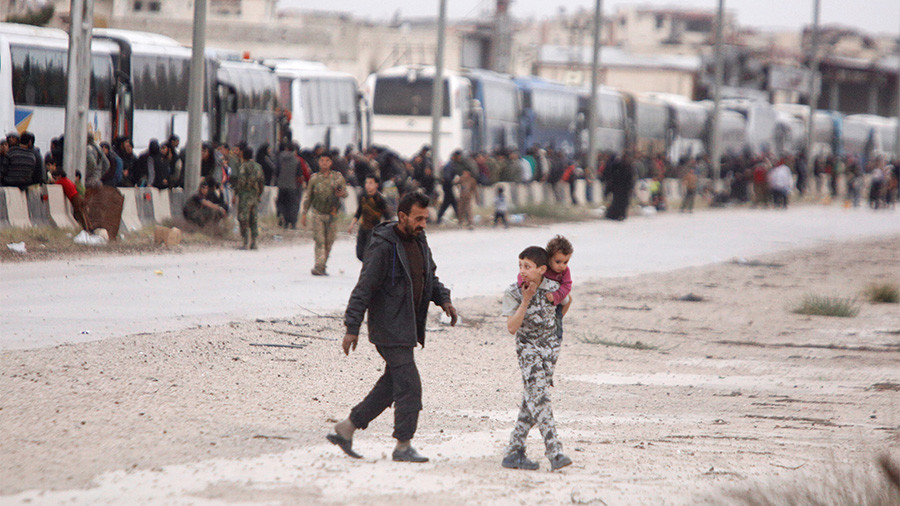 Russian military confiscated more than 20 suicide vests and nearly 300 grenades during recent evacuations from the Arbil settlement in Syria's Eastern Ghouta. In four days, more than 19,500 militants left the area.
The evacuees were moved to Syria's Idlib province from the besieged enclave, the Defense Ministry said on Wednesday. Some of the militants attempted to leave the area still carrying weapons and explosives, as Russian and Syrian officers said they seized eight suicide vests and some 289 grenades on Tuesday. The very same day some 100 buses packed with militants and their relatives left for Idlib.
"During the inspection of militants 15 suicide vests were discovered and seized overnight [from Tuesday to Wednesday]. Yesterday, the Russian military police and the Syrian police seized eight suicide vests. Two hundred and eighty-nine grenades were also seized from leaving militants," the statement reads.
The evacuation process began in Arbil on March 25, following the agreements reached by the Russian Center for Reconciliation in Syria and leaders of the Faylaq al-Rahman group. Earlier in March, another armed unit, Ahrar al-Sham, was allowed safe passage from Harasta, some 14km from Damascus, to Idlib.
The enclave near Damascus has become the scene of fierce fighting between militants and Syrian government forces. The groups are accused by Moscow and Damascus of violating the ceasefire and preventing civilians from leaving hotspots, and also of using them as human shields.
You can share this story on social media: