Assange's internet blackout & Skripal case part of propaganda war that risks real one – John Pilger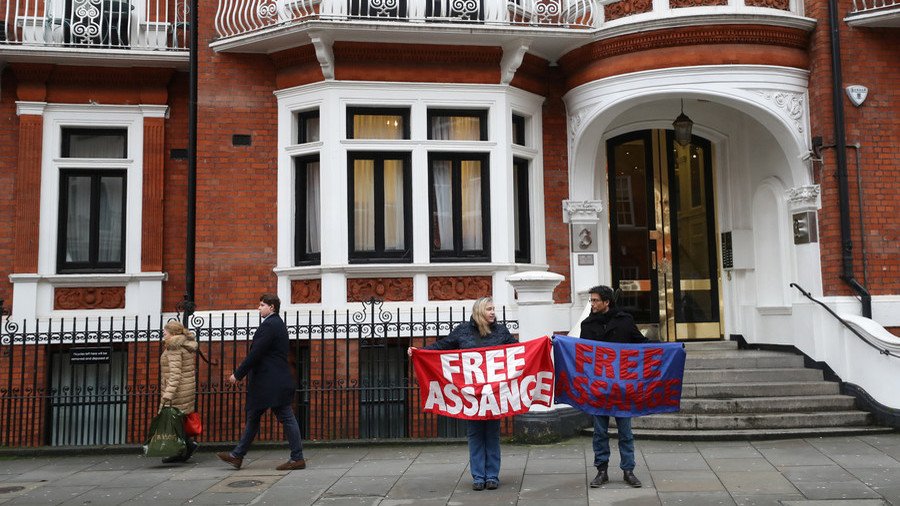 The Skripal saga and Ecuador's move to cut Julian Assange's internet is part of a wider crackdown on freedom of speech and states like Russia which have stood up to the West. It risks evolving into a real war, John Pilger told RT.
"This is about a war on freedom of speech; this man is being denied the most basic right – freedom of speech. It's part of a wider war. The wider war is against known enemies, and Russia is one of them, China is another," investigative journalist and documentary filmmaker John Pilger said.
Earlier this week, the Ecuadorian Embassy in London, where Assange has been holed up since 2012, cut off all communications for the WikiLeaks founder, blocking his internet access and not allowing any visitors. A source close to WikiLeaks told RT that Ecuador cut Assange's internet due to his tweet about the arrest of former Catalan leader Carlos Puigdemont in Germany.
Pilger argued that the way the Western media – instead of doing its job, blindly sided with the official narrative – framed the events in Salisbury is another instance in the same global propaganda effort. "It's part of the propaganda war that the attack in Salisbury represents. Here we have Russian diplomats being expelled all over the world on the basis of no evidence."
Former Russian double agent Sergei Skripal and his daughter were poisoned earlier in March and found unconscious in Salisbury. The UK government has blamed the attack on Russia, but Moscow denies the allegations, saying that no evidence has been presented to support the claim. Following calls from London, almost 30 states announced they would expel Russian diplomats over the case, prompting the Kremlin to announce tit-for-tat measures.
Pilger said Assange was castigated by the British government for merely saying it was "poor diplomacy" on the part of the UK to kick out Russian representatives with no independent confirmation of its rushed investigation.
"He was just suggesting that there was no evidence, but this is what this propaganda war is about. It's a war on speaking out, it's a war on dissent, it's a war on the very things that I'm saying at the moment, it's a war on journalism and requires collaborators," Pilger said.
He cited as an example an article written by the Guardian's James Ball. The opinion piece by Ball says Assange "has himself to blame" for invoking Ecuador's ire, and he should "hold his hands up and leave the embassy."
"These are not journalists, because this is about the public's right to know and it's the public right to know what the governments are doing. The second part of this war is about a real war. We've got the prospect of a real war unless this propaganda war is seen through," Pilger said.
What made WikiLeaks and Assange the target of multiple attacks over the years is the commitment to true journalism.
"The attack on him and WikiLeaks over the years is so important because it does what journalism should be doing and that is holding power to account."
Watch RT's full interview with John Pilger on YouTube:
If you like this story, share it with a friend!
You can share this story on social media: