48 suicide belts seized in E. Ghouta, evacuation bus bombings thwarted – Russian MOD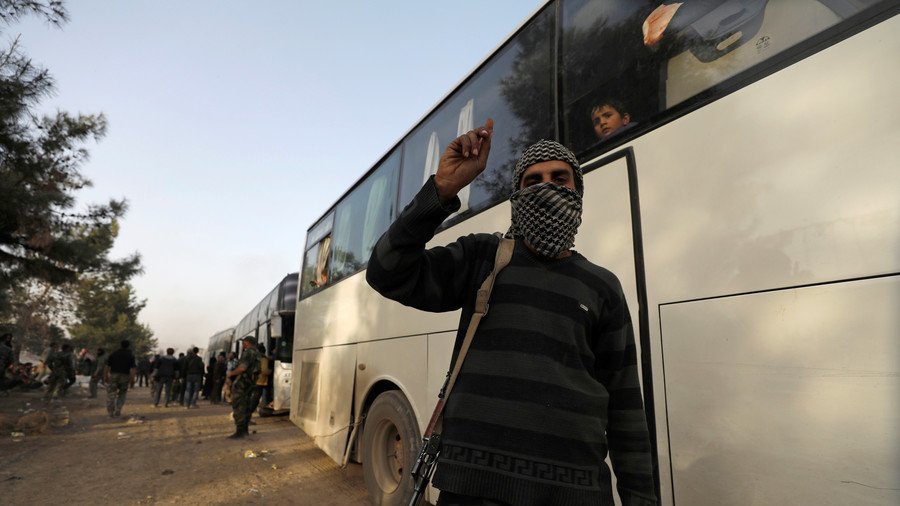 The Russian military has thwarted dozens of suicide bomb attacks targeting buses of civilians fleeing Syria's eastern Ghouta, Russia's Defense Minister said. Forty-eight explosive belts have been seized within three days.
The buses packed with civilians that are leaving Syria's besieged enclave in their hundreds have been increasingly targeted by terrorists, who seek to blend in with the crowds to sneak explosives on board. The Russian military received tip-offs about the terrorist plots every day, Russian Defense Minister Sergey Shoigu said during a meeting with UN Special Envoy for Syria Staffan de Mistura on Thursday.
"Four days ago, we received a tip-off that a provocation was being prepared involving suicide belts. Suicide bombers were supposed to be seated in buses together with refugees. Unfortunately, this information was confirmed," Shoigu said, as cited by TASS.
The Russian military managed to foil the plot that could have resulted in mass civilian death. They retrieved seven belts on Monday, thirty-two on Tuesday and nine on Wednesday.
"It's not hard to imagine what could have happened if these suicide bombers blew themselves up in the buses with women and children," the minister added.
Russia's efforts to ensure a safe passage of civilians trapped in eastern Ghouta have also been plagued by a continuing misinformation campaign in support of the jihadists, Russian Foreign Minister Sergey Lavrov said after his meeting with de Mistura.
"Unfortunately, the operation – and we got used to it – has been accompanied by a veiled campaign in support of the militants," Lavrov noted. Fake news spread by the rebels included reports of people going hungry as a result of the siege, reports of indiscriminate civilian bombings, including with banned weaponry, as well as allegations of the Syrian government's use of chemical weapons, Lavrov said, adding that the latter claim seems absurd "even from the point of military tactics."
READ MORE: 40 tons of chemical weapons left by militants found in Syria – Russian MoD
Refuting reports of mass arrests and a crackdown on those who had escaped the enclave, Lavrov said they were recycled allegations similar to those spread during the Aleppo liberation, which turned out to be myths.
Speaking of the de-escalation zones, of which there are four, including the one in Ghouta, Lavrov said that there are no plans to create more of them. He said he hopes that the ceasefire in Ghouta will soon take hold again, despite repeated violations by the militants who refused to cede from Al-Nusra, thus flouting their commitments made under the ceasefire deal.
As much as 90 percent of eastern Ghouta has already been liberated, Lavrov said, adding that he believes that life would return to normal in the suburb "in the nearest future." Eleven thousand militants and 130,000 civilians have left Ghouta since the start of the evacuations, according to Shoigu.
Speaking about Syria's future, de Mistura stressed the importance of the decisions made at the Syrian National Dialogue Congress meeting in Sochi in January.
Noting that the Congress "had a very important role" in supporting the Geneva peace process, de Mistura urged all parties involved to act in order to bolster it. The creation of a constitutional committee charged with drafting a new constitution for Syria should not be stalled, the special envoy said, adding that its makeup should be announced as soon as possible. The decision to create a 150-member committee was made possible through the agreement reached between some 1,393 delegates that were present in Sochi.
The special envoy also pledged UN support to alleviate the dire humanitarian crisis in Raqqa and other Syrian regions. Russia has repeatedly raised concerns about the lack of humanitarian assistance to the population of Raqqa, the former de-facto capital of Islamic State (IS, formerly ISIS, ISIL), with Russian President Vladimir Putin calling for an investigation into the massive US-led coalition air strikes on residential areas in the city in a recent interview.
The UN will send an expert team from Damascus to Raqqa to evaluate the situation and determine what kind of humanitarian assistance to provide, Mistura said.
You can share this story on social media: