2,400 animals dead, 100s of residents evacuated after Colombia oil spill (VIDEOS, PHOTOS)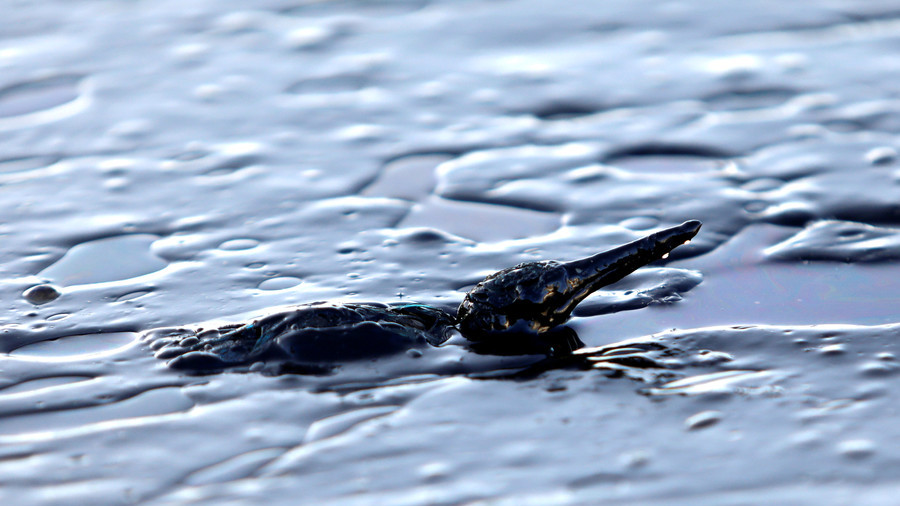 An estimated 2,400 animals have been killed while hundreds of residents were evacuated following a major oil spill in rural Colombia. The government is preparing sanctions against the oil well operator Ecopetrol for negligence.
Ecopetrol's Lisama 158 well began leaking on March 3 but has yet to be fully contained. The situation is so bad that a specialist 60-ton "Snubbing Unit" was sent from Houston in the US to help engineers to permanently seal the well. The Snubbing Unit team was specifically hired to determine the exact cause of the leak, according to Edgar Mora, head of the department for development and production at Ecopetrol.
The operation will be conducted by an international team of experts who specialize in a variety of different fields, and it is expected to last up to four weeks, depending on initial results. Ecopetrol claims that there have been no subsequent leaks of sludge, oil or gas into the water supply since the initial leak.
The company has been criticized by Colombia's National Environmental Licensing Authority (ANLA) for not having an effective contingency plan, for not providing an adequate emergency response given the magnitude of the leak and for failing to disclose the true magnitude of the event. ANLA claims that up to 24,000 barrels of crude oil have been spilled over an area of 24 square kilometers.
"If we find that Ecopetrol hid information that would have prevented this incident, they will face drastic sanctions," said Colombian Environment Minister Luis Gilberto Murillo. "This is very serious and cannot happen again."
[2] Los equipos consisten en una 'Snubbing Unit', que pesa 60 toneladas, y un set denominado BOP (válvulas para controlar la presión), que pesa 100 toneladas más. Fueron traídas desde Houston, Estados Unidos, en dos aviones Boeing 747 al aeropuerto El Dorado. pic.twitter.com/2nEvlPfas2

— Ecopetrol (@ECOPETROL_SA) March 28, 2018
Ecopetrol incorrectly reported that the situation was under control on March 3, obstructing further emergency response efforts by local environmental authorities and agencies. The company has been blamed for negligence that led to the deaths of local plant and animal life and for causing socioeconomic damage resulting from forced evacuations of local fishing communities, as well as endangering two local aquifers. Up to 70 families are being treated for vomiting, headaches, and dizziness.
The Colombian government has accused Ecopetrol of mismanaging and undermining the environmental response. "What we can say is that Ecopetrol has been incompetent and incapable of understanding an emergency and environmental tragedy like the one that is happening," Santander Governor Didier Tavera said, as cited by The City Paper Bogota.
Ecopetrol's president, Felipe Bayón, reportedly blamed seismic activity for cracking the well, rather than any technical failures on the company's part. Santander is one of Colombia's most seismically active regions, with tremors reported daily via the country's geological department Ingeominas.
Like this story? Share it with a friend!