'US one-sided pact with the Ghanaian military does not bode well'
Published time: 29 Mar, 2018 14:28
Edited time: 29 Mar, 2018 15:00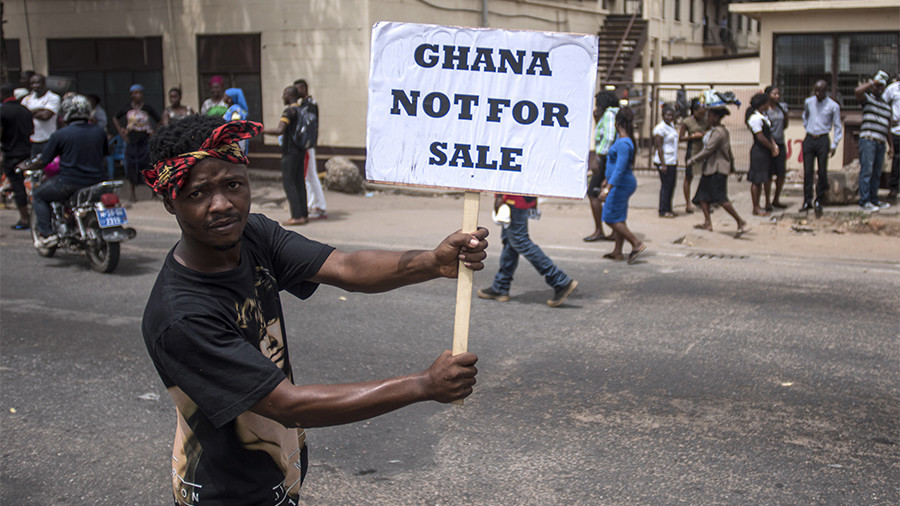 There is lingering resentment in Ghana because of US interference in Ghanaian internal affairs in the past. Protesters feel that the new military agreement may augur more of the same, author & historian Gerald Horne told RT.
Thousands of protesters have marched in the streets of Ghana's capital denouncing US military expansion in the West African nation. The new military deal was approved by President Nana Akufo-Addo's government last week. The US will invest 20 million dollars in equipment and training for the country's army. It also includes joint exercises with Ghana, and the right to use the nation's radio frequencies and runways.
Some locals think it infringes on Ghana's sovereignty. When the controversial military co-operation deal was approved by parliament last week, some of its members walked out in disapproval.
RT: Ghanaian officials say the agreement is a continuation of the two decades long US-Ghana relationship. But protestors say the country's giving up sovereignty. How do you view the situation?
Gerald Horne: I think that protesters have the better of this argument. They may recall that it was in February 1966 that the US and the Central Intelligence Agency helped to overthrow the founding father of Ghana, I am speaking of Kwame Nkrumah. There is lingering resentment in Ghana to this very day because of this gross interference in Ghanaian internal affairs. And no doubt the protesters feel that this military agreement may augur more of the same.
Secondly, keep in mind that Ghana has one of the largest populations of expatriate African-Americans, other than South Africa. And I dare say that many of these African-Americans were found in the streets during the protests because many of them have lingering resentment against the US because of the racism and white supremacy to which they have been subjected.
Thirdly, keep in mind that with a military agreement, the US has the opportunity to forge closer ties with Ghana's military and in the past that has augured the possibility of a military coup against the government… that the US objects to. So, there is very good reason for these demonstrators to take to the streets.
I think the policy that President Trump's administration is advocating for Africa, which is to rely on security and military buildup is a fundamentally flawed policy. And it is not going to solve the problems of dealing with the terrorists and the violent extremists that are involved… in West Africa. And I think this policy has not worked in the past and it is not going to work now… Instead of helping African countries develop their economic power by investing in infrastructure… the US has increasingly relied on military kinetic warfare. – Lawrence K Freeman, African affairs analyst
RT: The United States has been rapidly expanding its military presence in Africa for the last decade. What's their motivation for that?
GH: First of all, there is considerable hysteria about the role of China in Africa. The US is not able to compete in Africa with China financially and economically. However, the US feels that is has an advantage because of its huge military budget, and therefore it could put it thumb on the scales in Africa with regard to spending on the military. You may know that there is a sizable US military presence on the African continent, the so-called Africa Command. There are thousands of US troops in Djibouti in the Horn of Africa. There are US soldiers who were just killed in Niger, just northeast of Ghana, in recent months and weeks. There has been a joint France-US military intervention in Mali just north of Ghana. So, there is considerable reason for protesters to take to the streets, because this pact with the Ghanaian military does not bode well.
The question is, would the Ghanaian military be allowed to use US radio frequencies in the United States of America. The answer would be flatly no. That is… a one-sided arrangement. Keep in mind as well that US oil giants have been exploring offshore from Ghana and reportedly have discovered many finds in terms of petroleum. And I dare say that these US oil giants are also concerned about protecting their investments in West Africa and therefore they would also demand and desire an enhanced and increased US military role. Secondly, keep in mind that… Ghana has one the highest economic growth rates on the continent of Africa. The economy is growing rapidly and that is being promoted in some ways by US investors, and they too would want a growing and enhanced US military role in Ghana.