'It is OVER!' Dotcom claims victory in US extradition case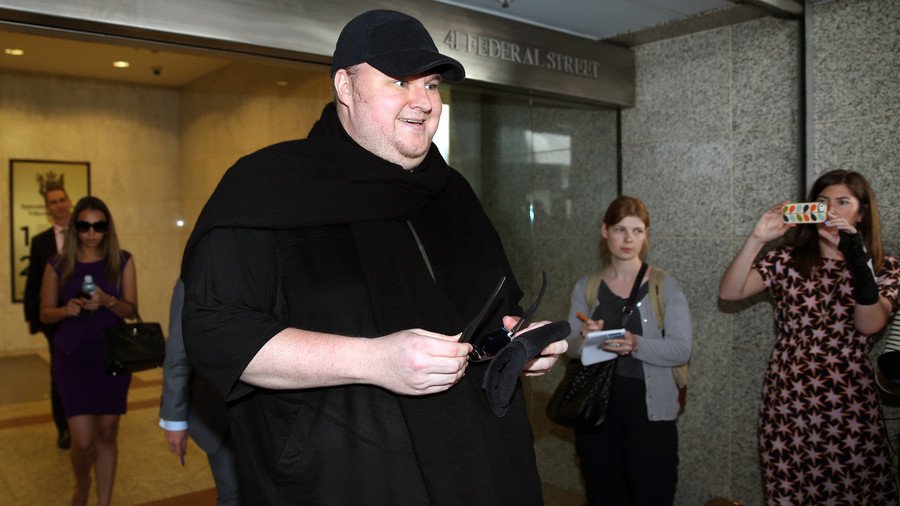 Kim Dotcom has declared his extradition case to be "over." This comes after a Human Rights Review Tribunal in New Zealand ruled that the country's Attorney General unlawfully withheld information about his case.
The case relates to an urgent information privacy request submitted by Dotcom to New Zealand's 28 government ministers and their departments in July 2015. The request was for all personal information the government had on Dotcom, including that under his previous names. Former Attorney General Chris Finlayson turned down the requests.
READ MORE: Kim Dotcom warns of 'invisible spy war' & deep state interference
On Monday, the tribunal ruled that Finlayson's actions were unlawful and amounted to perverting the course of justice. "Given we have accepted Mr Dotcom as a credible witness we are of the view he has clearly and unambiguously established loss of dignity and injury to feelings," the tribunal said. Dotcom was awarded $90,000 in damages.
What does the Human Rights Tribunal Judgement mean for my Extradition case?It is OVER!By unlawfully withholding information that could have helped my case the former Attorney General of New Zealand has perverted the course of Justice.

— Kim Dotcom (@KimDotcom) March 26, 2018
Dotcom, a German national, has been fighting extradition to the US since his arrest for internet-piracy at his Auckland home in 2012. In a flurry of celebratory series of tweets Monday, the internet entrepreneur called the case a "mega conspiracy" and claimed that the judgment now means the push to extradite him to the US is "over." The case, however, has not been formally dropped just yet. Dotcom went on to call for the resignation of Privacy Commissioner John Edwards and promised to bring a civil case against Finlayson and former Prime Minister John Key.
After years of perseverance the time is here, we won, we're getting to the truth. I'm no longer the defendant.To former AG Chris Finlayson, former PM John Key and everyone else who was part of the real 'Mega Conspiracy', it is showtime! Private prosecution! I see you in Court.

— Kim Dotcom (@KimDotcom) March 26, 2018
I call for the immediate resignation of the Privacy Commissioner of New Zealand for his complicity with the former Attorney General and Crown Law in unlawfully withholding information that New Zealanders were legally entitled to.

— Kim Dotcom (@KimDotcom) March 26, 2018
The judgment marks the first significant victory for Dotcom in his legal battle with the governments of the US and New Zealand. In January, Dotcom filed a lawsuit against the two countries claiming nearly $7 billion in damages after his 2012 arrest led to the collapse of his business.
READ MORE: Kim Dotcom files multi-billion dollar lawsuit against US & NZ governments
Dotcom founded, and was the majority shareholder in, Megaupload, a company that provided online file storage and viewing services. In January 2012, the US Department of Justice closed down the firm's operations and arrested its owners on charges of operating an organization dedicated to copyright infringement.
Think your friends would be interested? Share this story!
You can share this story on social media: