Dramatic VIDEO shows man jumping out of burning shopping mall in Russia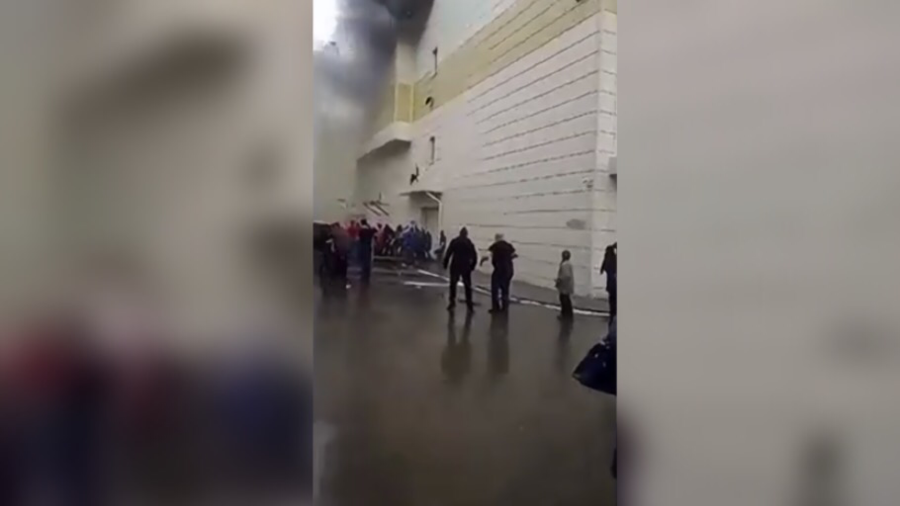 A desperate young man was filmed jumping from the third story of a blazing shopping mall in Russia's Kemerovo after smoke forced him to hang out of a window. A crowd of people can be seen on the ground attempting to catch him.
It was not immediately clear whether the jumper survived the ordeal, but Russia's Investigative Committee said three women, one man and a child were presumed dead in the fire.
UPDATE: 64 dead, bodies remain trapped under rubble after shopping mall fire in Russia's Kemerovo
A video obtained by RT's video agency Ruptly showed a crowd of people seemingly preparing to catch a person hanging from a third floor window as black smoke billows from it. People scream in terror as the young man jumps. He can be seen hitting the canopy on the ground floor before landing amidst the crowd. The video then shows an ambulance driving toward a person on the ground, whose ultimate fate is unclear.
WATCH: VIDEO of moment blaze begins at busy shopping mall in Russia's Kemerovo
The massive fire erupted in the Kemerovo shopping mall on Sunday afternoon. Emergency services rescued over a hundred people and continue to work at the site.
You can share this story on social media: