Massive blaze engulfs 10-story building in Russia's Ufa, killing 1 person (VIDEOS)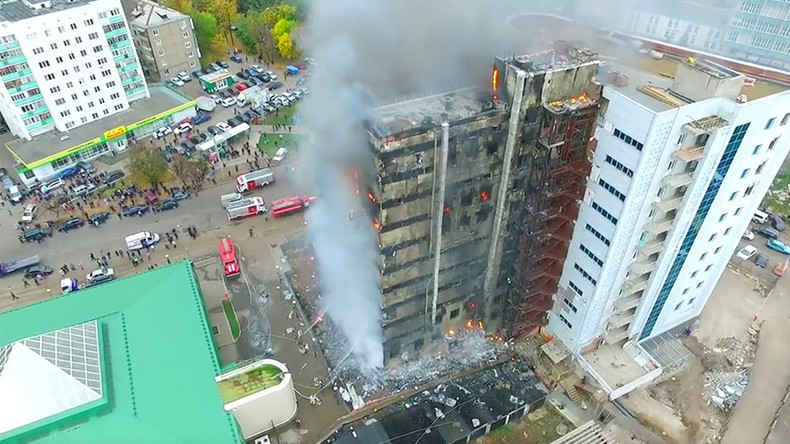 A massive fire ripped through a 10-story building under construction in the Russian city of Ufa in the Republic of Bashkortostan. One person, reportedly a construction worker from North Korea, has died and at least five others have been injured.
Over 100 people were working at the site when the fire broke out. Pictures and videos of the blaze and a massive black plume of smoke were published by witnesses on social media.
Four of the injured have now been hospitalized, RIA News agency reported citing Bashkortostan's Health Ministry's press-secretary, Svetlana Kuskarbekova.
"According to medics, five people have been injured in the fire, one person died. [The injured] received various injuries and poisoning by combustion products. Four have been hospitalized, one refused hospitalization," Kuskarbekova said.
One man died after he jumped from the building trying to escape from the flames. According to local media, the man was a 51-year-old construction worker who came to Ufa from North Korea. According to his co-workers, up to 30 more citizens of North Korea worked and lived at the site.
The blaze started on Friday morning, when authorities say the insulation caught fire. It quickly spread to a total area of about 600 square meters (6,458 square feet). An investigation has been launched by the regional investigation committee.
The republic's Ministry of Emergency Situations press service reported that the firefighters are currently wetting down the building and dismantling rubble. Local media report that about 40 firefighters are taking part in the operation.