'Ghost in motion': NASA shares animation of Jupiter storm caught by Juno probe
Published time: 25 Mar, 2018 04:23
Edited time: 25 Mar, 2018 08:03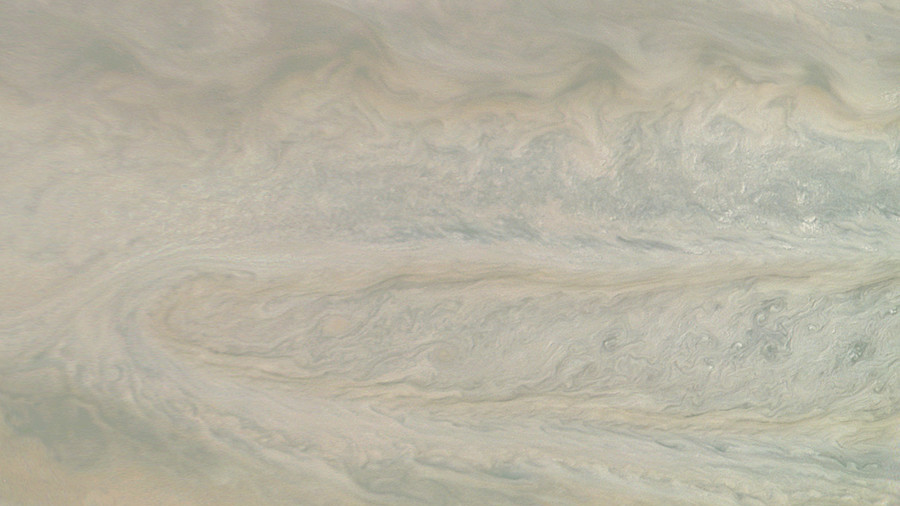 NASA has released an animation showing the movement of a storm on Jupiter, compiled with several true-color images that were captured by the Juno spacecraft back in December.
The pictures used in the time-lapse animation were taken 12 minutes apart and present a unique animation of a storm moving in the southern hemisphere of the fifth planet from the Sun.
"The animation reveals the cyclonic motion of the STB Ghost, a large elongated feature in Jupiter's South Temperate Belt," NASA explained. "This feature is elongated in the east-west direction and is located near the center in these images."
The images taken by NASA's Juno spacecraft on December 16, were captured when the spacecraft was flying 8,453 miles (13,604 kilometers) and 19,244 miles (30,970 kilometers) above the top clouds of the planet.
VIEW MORE: Jupiter's stunning storm clouds captured in latest Juno flyby (PHOTO)
If you like this story, share it with a friend!