'We may forgive, but won't forget': Serbia's commemoration of NATO bombing victims ignored by West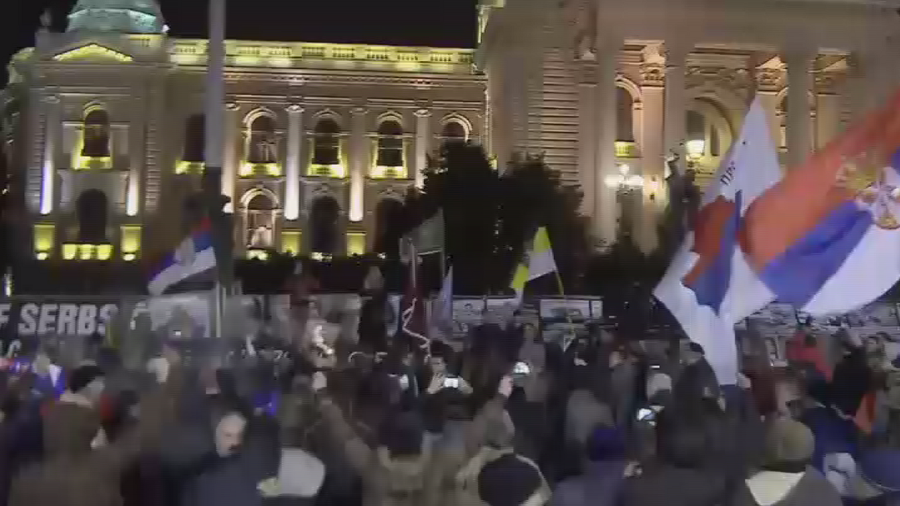 Thousands of Serbs honored the victims of the 1999 NATO bombings with a commemoration on Saturday, attended by Serbian president and many officials, including the Russian envoy, but with a glaring absence of Western diplomats.
The main commemorative event, held under the slogan "We will forgive, if we can, we will not forget while alive," took place in the Southern town of Aleksinac which suffered heavily in the 1999 US-led NATO campaign.
Darkness and silence fell over the entire city center as the ceremony, attended by President Aleksandar Vucic and his cabinet ministers, opened with deafening sounds of air alarm sirens. At least 3,000 people gathered in front of the stage and the ruins of a building destroyed in NATO bombing, according to Sputnik's correspondent.
"What do we say today, we on whom 420,000 missiles and nearly 40,000 cluster bombs and 1,300 cruise missiles have been dropped?" Vuvic asked. He went on to speak of the deaths and destruction caused by NATO, though adding that his country still seeks a partnership with the alliance.
"Yes, we want a partnership with you, you who have perpetrated terrible crimes on us. We want from the enemy to become friends, just do not expect us to forget that you killed us, or to blame our country for it. We want a partnership, but we will not join NATO. It would be rubbing too much salt into our wounds," Vuvic said.
The Russian Ambassador to Serbia, Aleksandr Chepurin, who also attended the poignant ceremony, noted the glaring absence of representatives of Western states.
"Today once again none of the Western diplomats bothered to attend this ceremony. So they show no repentance and, moreover, believe they did everything right. Looks like the Serbs are not humans to them, but they nevertheless continue to teach us humanism," said Chepurin.
Meanwhile in the capital Belgrade, about 500 demonstrators gathered in front of the Serbian Parliament in an anti-NATO protest commemorating the 19th anniversary of the Yugoslavia bombing. Protesters waved flags and lit flares, while others held banners with anti-NATO messages.
NATO justified its intervention without any approval of the UN Security Council, by accusing the Milosevic government of ethnically cleansing the province of Kosovo. The bombings lasted 78 days, from March 24 to June 10, 1999, and officially claimed at least 758 civilian lives – though Serbian sources say the true figure may be up to five times as much.
READ MORE: 19 years after NATO bombed Serbia, most Serbs won't take apology from alliance – poll
According to a recent poll, 19 year later a majority of Serbs would not accept an apology from NATO for its military intervention, and only 10 percent would wish to see their country become a member the trans-Atlantic military bloc.
Think your friends would be interested? Share this story!
You can share this story on social media: