19 years after NATO bombed Serbia, most Serbs won't take apology from alliance – poll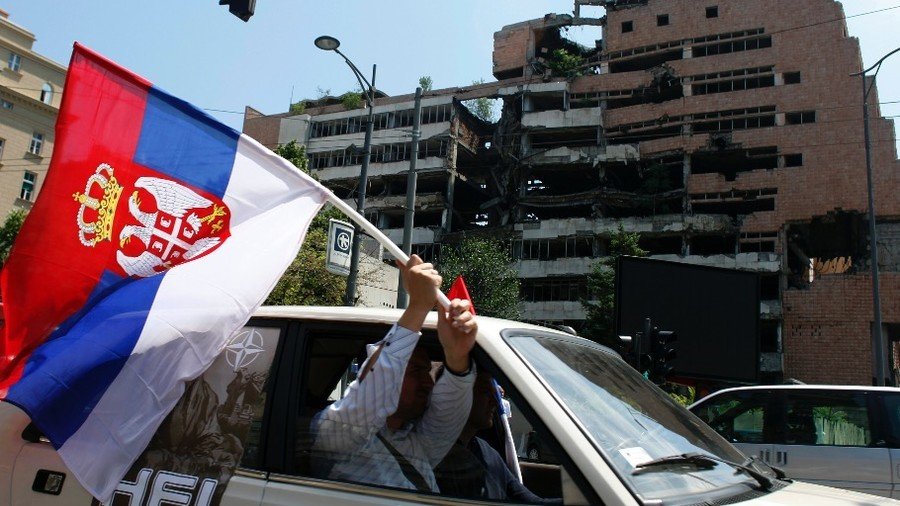 A majority of Serbs today would not accept an apology from NATO for its 1999 military intervention in Kosovo. Only 10 percent would wish to see their country become a member the trans-Atlantic defense bloc, recent poll shows.
The continued animosity towards NATO in Serbia was highlighted by an opinion poll conducted by the Belgrade-based Institute for European Affairs in mid-March. According to the poll, only 10 percent of Serbs support membership of the military bloc while 84 percent oppose it. The mood is particularly strong in the Serbian capital, where the level of support for NATO membership is 5.8 percent, and among young people aged 18 to 25 (7.7 percent). Only 18 percent believe that becoming an ally would be beneficial for Serbia.
Former Serb leader Slobodan Milosevic and his policies are perceived as the main reason for the bombings by 17.4 percent of Serbs. The second-most mentioned reason was that the US and Western powers were simply pursuing their interests. It was cited by 15.2 percent of respondents. Other popular explanations included a goal to push ethnic Serbs out of Kosovo (12.6 percent) and to remove Kosovo from Serbia (10.5 percent)
If NATO were to offer Serbs an apology for the bombings, 62 percent of them would not accept it according to the poll. The defiant attitude is most prominent among Belgrade residents (65.9 percent) and people aged 30-44 (67.3 percent), who were teens or young adults during the bombing campaign. A majority of 66 percent said NATO bombings of Yugoslavia could have been avoided.
NATO justified its intervention in Kosovo by accusing the Milosevic government of ethnically cleansing the province. The bombings lasted 78 days and officially claimed at least 758 civilian lives, though Serbian sources say the true figure may be double that. The violence in Kosovo followed decades of inter-ethnic alienation and tension in the province. The loss of the province was a great symbolic blow to Serbs, who historically consider the land essential to their statehood and of great spiritual significance.
If you like this story, share it with a friend!
You can share this story on social media: