WikiLeaks lawyer talks corruption & more on ex-Ecuadorian President's RT show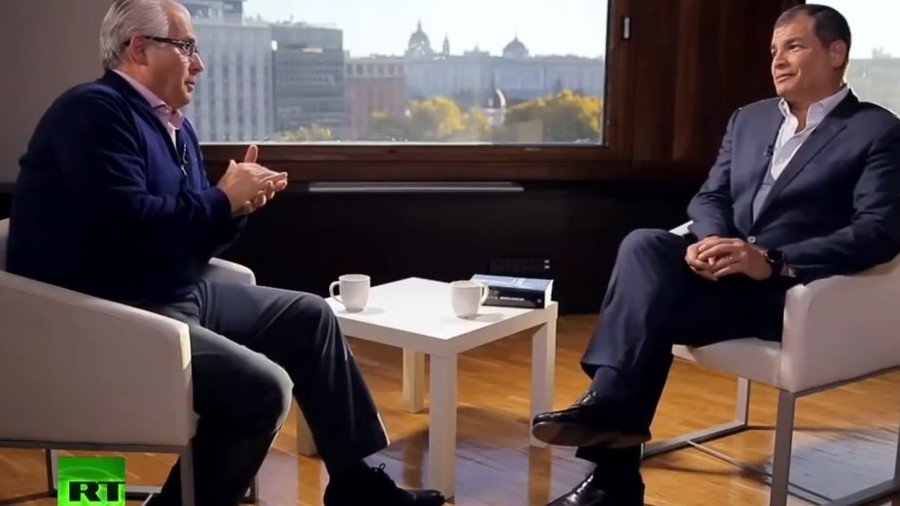 Ex-Ecuadorian President and RT show host Rafael Correa sits down with prominent Spanish judge and WikiLeaks lawyer Baltasar Garzon. The two of them talk transnational, corporate "neocolonialism" and the fight against corruption.
Following in the footsteps of former First Minister of Scotland Alex Salmond, the outspoken Rafael Correa is set to become the latest top-tier politician to host a program on RT. His weekly show, 'Conversations with Correa' (Conversando con Correa) mainly revolves around the major social and political problems gripping the world.
This time corruption, multinational corporations and smear campaigns against Latin America's progressive leaders top the agenda of Correa's show. His guest is Baltasar Garzon, a renowned Spanish lawyer and head of Julian Assange's legal team.
"Turning the fight against corruption into an ideology issue is a very dangerous phenomenon," the lawyer opines, citing the example of Brazil's President Inacio Lula da Silva who was sacked from the post following a long corruption row.
"I think this is a gross injustice," Garzon says, adding that Lula's successor, President Dilma Rousseff, was also accused of being corrupt. Rousseff "as an honest person, should not have been removed from office through impeachment," the WikiLeaks lawyer states. "This, from any point of view, is a shame."
Recalling his experience as head of state, Correa remarks: "I can say there is a lot of ideological talk when it comes to combatting corruption." According to Correa, who led the Ecuadorian government for over a decade, there is a myth that "corruption exists in state institutions only."
"Normally, the state is neither better nor worse than the society it represents," he posits. "People often think that the fight against corruption is the responsibility of the President, the head of state, but in fact it is the duty of the entire people."
Correa stresses that fighting corruption has often been used in Latin America to target political opponents, and Garzon agrees. "Justice has become extremely prejudiced and biased against all those people who, in one form or another, were supporters of the previous government," the lawyer says, recalling former Argentinian President Cristina Kirchner whose tenure was marred by several corruption scandals.
"It came even to the point that when a corrupt official is exposed, he is not condemned for the very fact of being corrupt, but for being caught in such a stupid way," Garzon adds.
Correa previously gave several interviews to RT while he was in office. It was he who, in 2012, granted asylum to WikiLeaks co-founder Julian Assange, despite harsh criticism from the UK. Assange is still exiled in the Ecuadorian Embassy in London.
Think your friends would be interested? Share this story!
You can share this story on social media: