Like on Mars: African dust & sand turn Sochi snow slopes yellow (PHOTOS, VIDEO)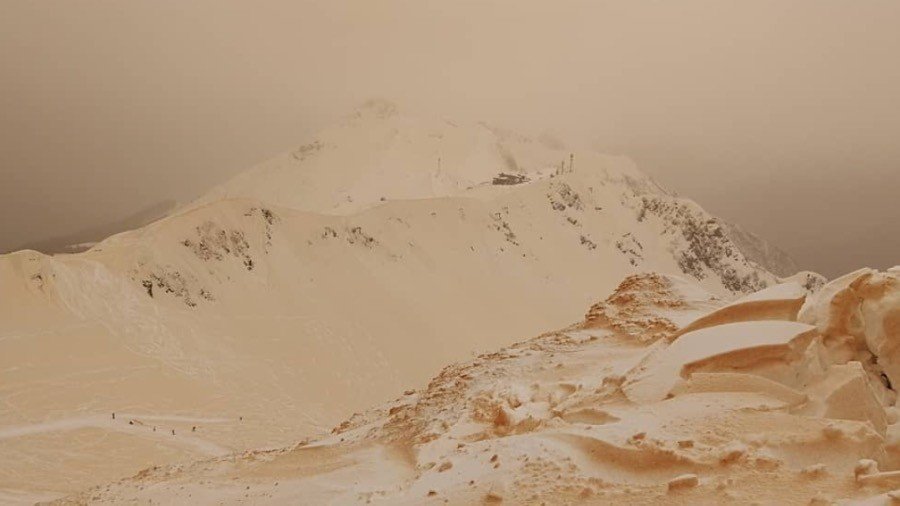 A mix of sand and pollen has covered Russia's Sochi resort, leaving its mountains looking like sand dunes. However, the Martian landscape didn't stop enthusiasts from hitting the hazy yellow slopes and posting apocalyptic photos.
Social media has been flooded with photos of the thick layer of yellowish dust on the snowy slopes of the Rosa Khutor ski resort near Russia's southern city of Sochi. The venue hosted the 2014 Winter Olympic Games.
The color of such unconventional snow varied from light yellow to intense orange and even brown. "Snowy slopes were transformed into barkhan dunes," one tourist wrote, adding an epic picture of the surreal landscape. Others noted that Krasnaya Polyana village, where the resort is located and which translates into English as 'Red Meadow,' has indeed become red.
The unusually-colored snow didn't scare off tourists, though – they continued to ride the snowy dunes. "Martian landscape, Apocalypse Now," one woman wrote.
Meteorologists say not to panic – the coloration of the snow was caused by dust storms from northern Africa and pollen and it's harmless to people and animals.
You can share this story on social media: