Child warrior? Sickly Tutankhamun 'fought in battle,' new research suggests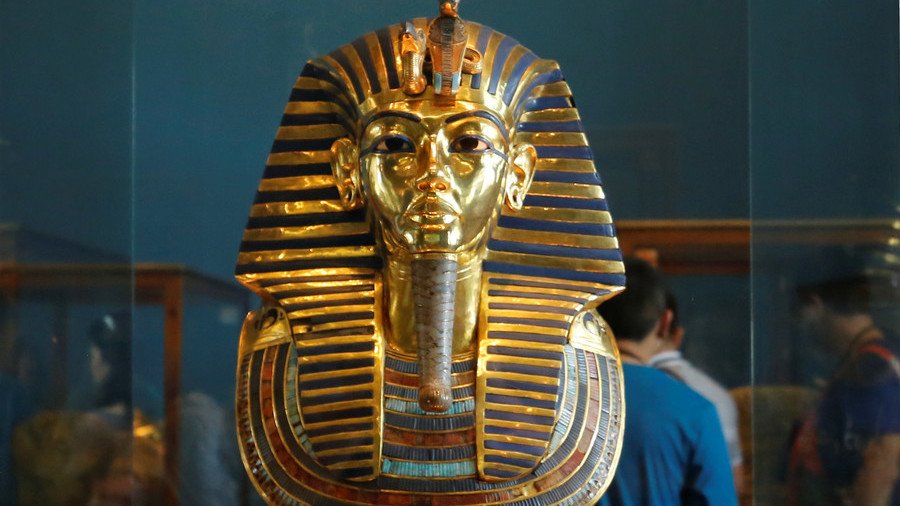 Tutankhamun, the ancient Egyptian pharaoh who ascended to the throne at the age of nine, could have once taken part in battle. That's according to the latest research into the boy king's leather armor.
Theories about the cause of the royal's death range from an infected leg fracture to sickle cell anemia and epilepsy. Over the years, these theories have created an image of a sickly boy who tragically succumbed to illness at an early age. However, a scientist from the University of Northampton in the UK has found evidence that King Tut may not have been as feeble as previously thought.
READ MORE: Giza Pyramid mystery chamber may hold Pharaoh's 'meteorite throne'
Lucy Skinner, the university's expert on ancient Egypt, developed the theory after helping production staff of a TV documentary to recreate Tutankhamun's leather armor. Using cutting-edge imaging techniques, the team's scans of the armor, known as a cuirass, revealed signs of wear, marks that suggest the boy had been in battle.
"It was possible to see abrasion along the edges of the leather scales, meaning that the armor had seen considerable use," Skinner told the documentary, 'Tutankhamun's Treasures', which will air on UK television. "That suggests that Tutankhamun had worn it, and that perhaps he had even seen battle. If this is true, it would be an amazing revelation."
The 3,000-year-old leather was found during an excavation of the burial site by British archaeologist Howard Carter in the 1922. However, it is thought that the cuirass was heavily damaged after being removed from its original box after Carter found Tutankhamun's burial chamber. A small portion of the leather armor remains to this day.
To rule out the possibility that the marks were a result of the production process, Skinner has been attempting to remake the ancient leather in tanneries at the university's Institute of Creative Leather Technologies. "The ancient methods used for making this type of leather are not really well understood," she said. "Materials will invariably change chemically and physically after being buried for thousands of years, so there are a lot of complicated scientific processes involved in finding these things out."
READ MORE: Ancient Egypt: 'Billboard' hieroglyphics let historians see the big picture
The pharaoh ruled ancient Egypt during the 18th dynasty in 1323 BC. He is thought to have died aged just 18. Scans of his remains show that he had a slight build and suffered from a mild form of scoliosis, a medical condition in which the spine is misaligned.
Like this story? Share it with a friend!
You can share this story on social media: