'Alien fossil' mystery: Age, origin & bizarre mutations of baffling 5-inch skeleton revealed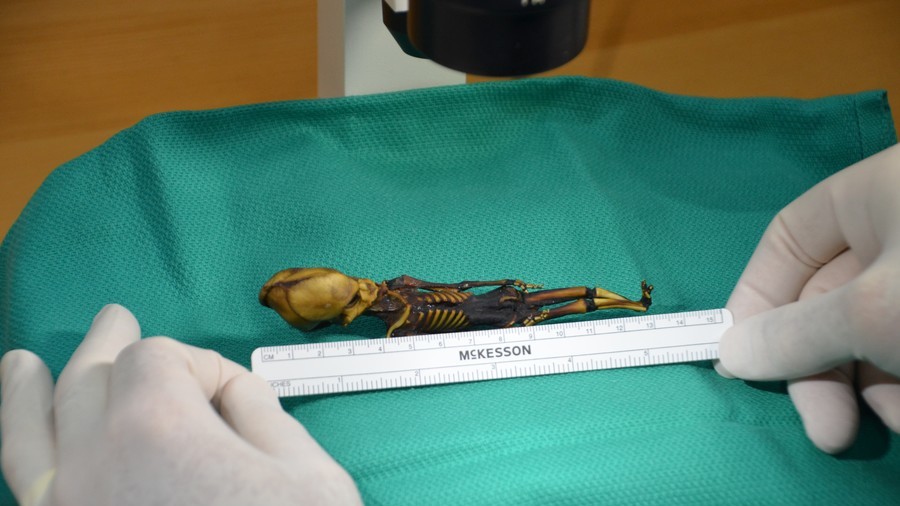 Back in 2003 conspiracy theorists were in a tizzy following the discovery of an alien-like skeleton in a remote Chilean town. Theories spread about the origin of the tiny mummified body but now the mystery has been solved.
'Ata,' as it was named, was discovered tucked inside a pouch behind a church in a ghost town in Chile's Atacama desert. Unlike anything ever found before, it had an elongated skull, strange sunken eyes and ten pairs of ribs, humans typically have 12 pairs.
Perhaps the most bizarre feature of Ata was its size. Despite appearing fully formed, it's roughly 6 inches (13cm) long, no bigger than a dollar bill. Until now its gender, age, how long it had been buried in the Atacama desert, cause of death – and even home planet – remained a mystery.
These questions have now been answered thanks to a comprehensive genome analysis by scientists from Stanford University and the University of California-San Francisco. "I had heard about this specimen through a friend of mine, and I managed to get a picture of it," senior study author Garry Nolan said in a university press release.
"You can't look at this specimen and not think it's interesting; it's quite dramatic. So I told my friend, 'Look, whatever it is, if it's got DNA, I can do the analysis,'" he added. After five years of arduous testing the scientists concluded that Ata was the skeleton of a human female "likely a fetus, that had suffered severe genetic mutations."
Furthermore her remains were not as ancient as previously thought, only about 40 years old, and, "though most likely a fetus, had the bone composition of a 6-year-old, an indication that she had a rare, bone-aging disorder."
The results also showed a number of mutations in Ata's DNA that "separately or in combinations contribute to various bone deformities, facial malformations or skeletal dysplasia, more commonly known as dwarfism."
The teams research was published Thursday in the journal Genome Research. It brings to a close the mystery surrounding the highly unusual find.
Think your friends would be interested? Share this story!