'Dear friends, thank you': Putin talks to supporters as preliminary results signal election victory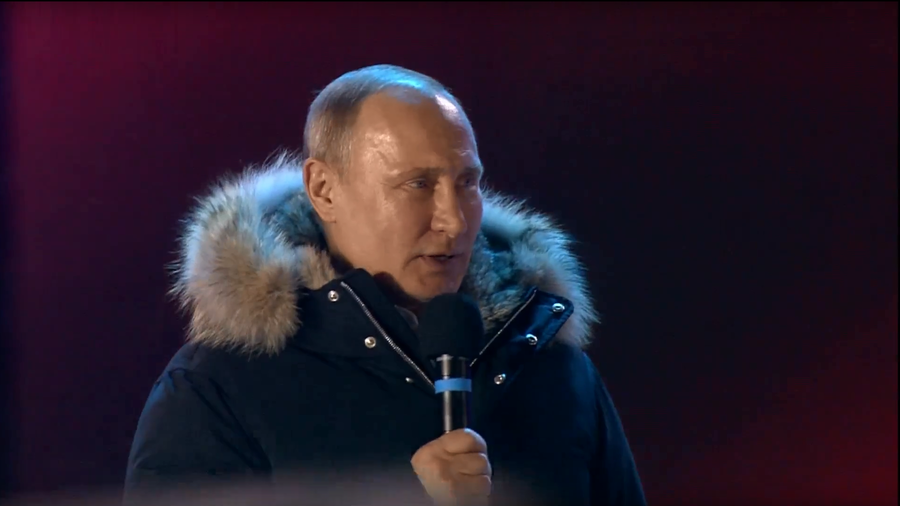 Vladimir Putin has addressed the crowd in his electoral campaign headquarters. Putin leads the elections with over 75 percent of the vote, according to preliminary results.
He expressed gratitude to all his supporters and voters, stating that the election results clearly indicate that the people support his political course, despite the hard times Russia recently went through.
Speaking with the reporters at his HQ, Putin addressed the hottest political issues. The president commented on the Skripal case and the accusations the UK has raised against Russia. Putin dismissed them, stating that it was "nonsense and absurd to claim that Russia would do anything like that before the elections and the World Cup."
Russia's leader condemned the situation in Ukraine, stating that the Kiev's decision to block Russian diplomatic facilities and prevent voters from accessing polling stations was a clear violation of international laws.
One of the reporters asked the president whether "we'll see a new Putin or old Putin" in the next six years. "Everything changes. We all change," Putin said with a smile. He also laughed off a question about running again in 2024.
Putin's address came as the votes are still being counted. According to preliminary results, he has secured a decisive lead with some 75 percent of vote after around half of the ballots were processed.
Moments before his speech in the HQ, Russia's president made a brief appearance at the 'Russia. Sevastopol. Crimea' concert in Red Square, marking the anniversary of Crimea's reunification with Russia.
"Dear friends, thank you, that on this frosty Moscow night we gathered here in the capital's heart. Thank you for your support," Putin told the audience. "I want to address those who gathered in Moscow and the supporters all across the territory of our enormous country. Thank you very much for the result! You are our joint team, and I'm a member of your team."
Russia's president expressed hopes for fruitful work and success in the future, stressing the importance of national unity and securing the trust of those who voted for other candidates. Prior to leaving the stage to applause, Putin led the crowd in a chant of: "Russia! Russia!"
Like this story? Share it with a friend!
You can share this story on social media: