'Unforgivable': Kremlin blasts Boris Johnson for blaming Putin for Skripal poisoning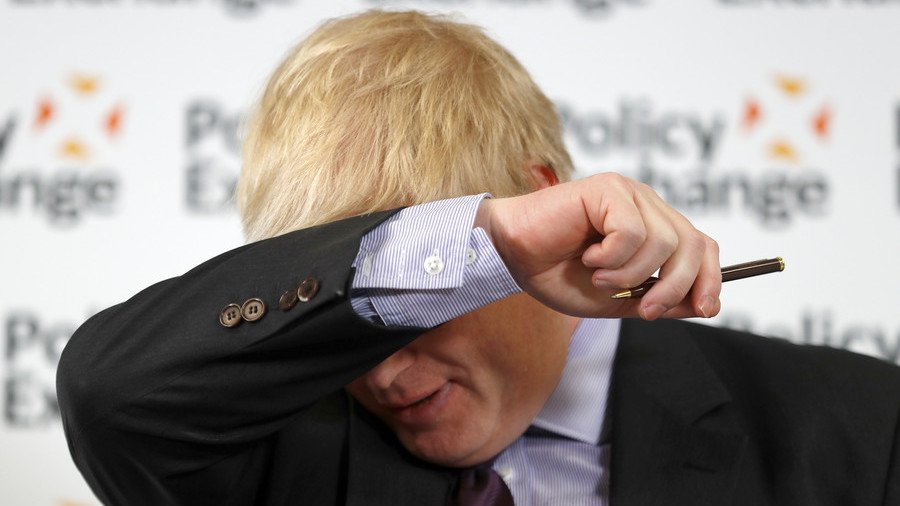 Blaming Vladimir Putin for Sergei Skripal's poisoning is "shocking and unforgivable," the Kremlin said, after UK Foreign Secretary Boris Johnson claimed the Russian president likely ordered the attack.
"Russia has nothing to do with this affair," Dmitry Peskov, presidential press secretary, told Interfax. "Any references to our president (in connection with the Skripal case) are nothing but shocking and unforgivable behavior from the diplomatic point of view."
Earlier on Friday, Johnson told journalists that "our quarrel is with Putin's Kremlin, and with his decision – and we think it overwhelmingly likely that it was his decision – to direct the use of a nerve agent on the streets of the UK, on the streets of Europe for the first time since World War II."
The statement was a "diplomatic blunder" on the part of the UK foreign secretary, Peskov said, adding that the Kremlin remains "puzzled" by the conduct of the British authorities during the Skripal crisis.
"Frankly speaking, in international practice we never encountered such behavior at the state level when very serious accusations are being brought up against a country – our country in this case – with such wording as 'apparently,' 'most likely' and so on," the press secretary said. Such an approach "contradicts not only international law, but common sense as a whole," he added.
The press secretary also expressed belief that "sooner or later the British side would have to present some kind of comprehensive evidence [of Russia's involvement], at least, to their partners [France, the US, Germany], who declared solidarity with London in this situation." Moscow earlier asked the UK to provide materials in the Skripal case, but received a negative answer.
Johnson's claims of Putin's personal involvement weren't the only example of over-the-top rhetoric by UK officials during the Skripal crisis. UK Defence Secretary Gavin Williamson said on Thursday that Russia "should go away and shut up" when asked about Moscow's possible response to British sanctions.
READ MORE: Russian ambassador to UK confirms expelled diplomats will leave on March 20
Following the comment, Russian Foreign Minister Sergey Lavrov described 41-year-old Williamson as "a nice young man," who is trying to get his place in history, but "lacks upbringing." Russia's Defense Ministry pulled no punches, saying that "fishwife's rhetoric" revealed the "extreme intellectual impotence" of the UK official.
REAd MORE: 'Nice young man seeks place in history but lacks upbringing': Lavrov on Williamson 'shut up' remark
Sergei Skripal and his daughter Yulia remain in critical but stable condition after being discovered slumped on a bench in Salisbury in early March. Authorities in the UK claim a Soviet-era nerve agent called Novichok was used in the attack on the former Russian-UK double agent, which led to UK Prime Minister Theresa May accusing Russia of being behind the plot. Moscow has denied its involvement, saying that it's ready to cooperate with London on investigating the incident if it's treated as an equal partner.
Like this story? Share it with a friend!
You can share this story on social media: