Big in Japan: Giant wooden penis paraded through streets in fertility festival (VIDEO)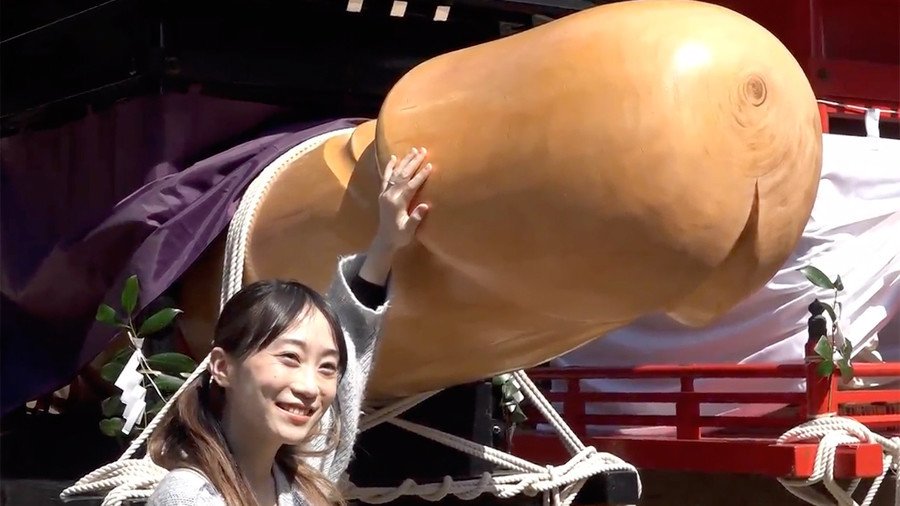 A giant replica penis was paraded through the streets of a Japanese city as thousands of revellers gathered to pay homage to the organ. The annual Honen Matsuri festival draws huge crowds to its celebration of fertility.
The festival, which is said to be running for more than 1,000 years, took place in the city of Komaki on Thursday. Local young men sporting white robes and black hats carried the "O-owasegata," a huge wooden penis, aloft and spun it around as those gathered watched on, snapping pictures and videos on their phones.
Visitors are encouraged to touch the wooden penis as tradition dictates that the act will bring good harvest to farmers and fertility to young couples. A new O-owasegata is carved every year for the occasion.
The enormous appendage was paraded through the city streets before being laid to rest in a local temple at which people lined up to pay homage. Others were treated to penis shaped delights, such as moulded cakes and candy.
"It's my first time to see a penis this big," a young woman remarked about the wooden centerpiece. "It's not only about people having sex," she added, "it's about like nature giving birth to new fruits. It's basically saying, that humans are equivalent with nature."
If you like this story, share it with a friend!
You can share this story on social media: