False flag: Canada lays out German tricolor for Belgian royals at WWI event
Published time: 13 Mar, 2018 11:44
Edited time: 14 Mar, 2018 08:42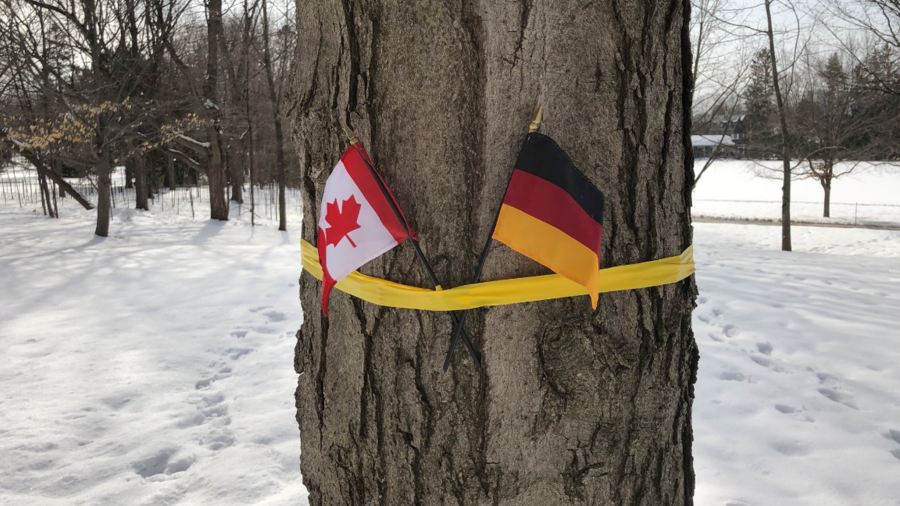 Canadian officials were left red-faced after accidentally using a German flag to greet the king and queen of Belgium, who were visiting the country to pay thanks to Canadian troops for their involvement in World War I.
The offending flag was paired with the Canadian emblem and tied to a tree on the grounds of Rideau Hall in Ottawa, the residence of the governor general of Canada. Belgium's King Philippe and Queen Mathilde were at the historic house to meet Governor General Julie Payette, who is Queen Elizabeth II's representative in Canada.
Both flags are black, red and yellow, however the German tricolor has horizontal stripes while the Belgian is vertical. Belgian journalist Wim Dehandschutter noticed the faux pas attached to a tree that was planted by Belgian Queen Fabiola on a visit in 1977. A spokesperson for Payette said the mistake was rectified before the king and queen arrived.
READ MORE: Canadians question Trudeau's eco-leadership as thousands march against pipeline (PHOTOS)
"While we were preparing for the tree-planting ceremony on the grounds of Rideau Hall, it was brought to our attention that there was a mix up with a small flag that was used to help identify the tree planted by Her Majesty Queen Fabiola in 1977," Marie-Eve Letourneau told to Canadian outlet Global News.
It is the first state visit from Belgium to Canada in 40 years and one of the main items on the royal agenda is to thank Canada for its involvement in the liberation of Belgium during the World War I. "We owe our freedom to the military men who came to our country 100 years ago to end the First World War," King Philippe said as he was greeted by Payette.
Like this story? Share it with a friend!