'Macron go back!' Protesters rally against French-designed nuclear plant in India (VIDEO)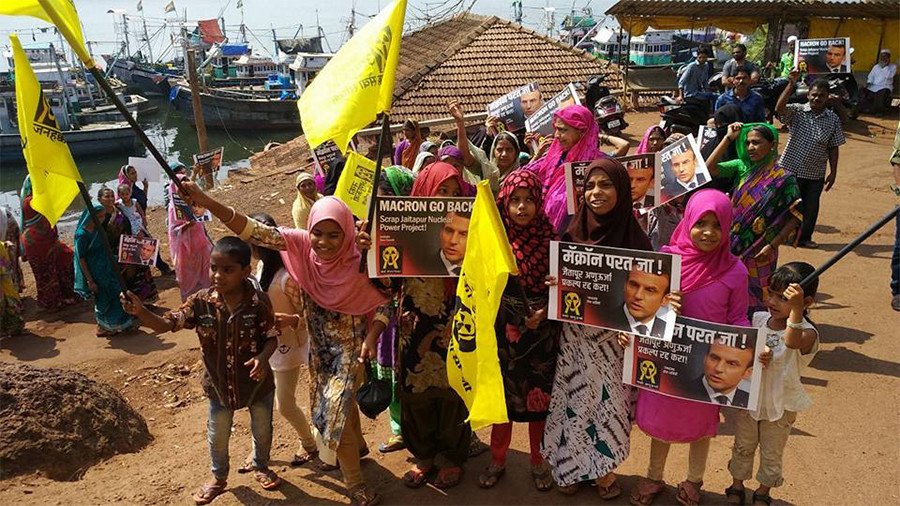 Crowds have marched in India protesting against the construction of a nuclear power plant in Jaitapur. The rally coincided with French President Emmanuel Macron's visit to India, during which the project was pushed forward.
On Saturday, protesters from villages surrounding the proposed location of the nuclear site called for the project to be scrapped. Demonstrators chanted and held banners, some of which read "Macron go back!"
The station is a joint project of the Nuclear Power Corporation of India (NPCIL) and the French state-controlled company Areva SA, and is set to become the largest nuclear power plant in the world. However, the proposed construction has raised safety concerns as it will be built on India's seismically active western coast. The nuclear site could also affect the livelihoods of thousands of locals, who reportedly depend directly on fishing and ancillary activities.
READ MORE: Disasters waiting to happen: 8 most dangerous nuclear plants near earthquake fault lines
Activists launched a petition against the construction of the plant, warning that it could follow the grim fate of Japan's Fukushima facility.
Macron met Indian Prime Minister Narendra Modi on Saturday, and the leaders pledged to boost the discussions on a contract and start work on Jaitapur around the end of 2018.
If you like this story, share it with a friend!
You can share this story on social media: