Greenpeace activists break into French nuclear plant, set off fireworks (VIDEOS)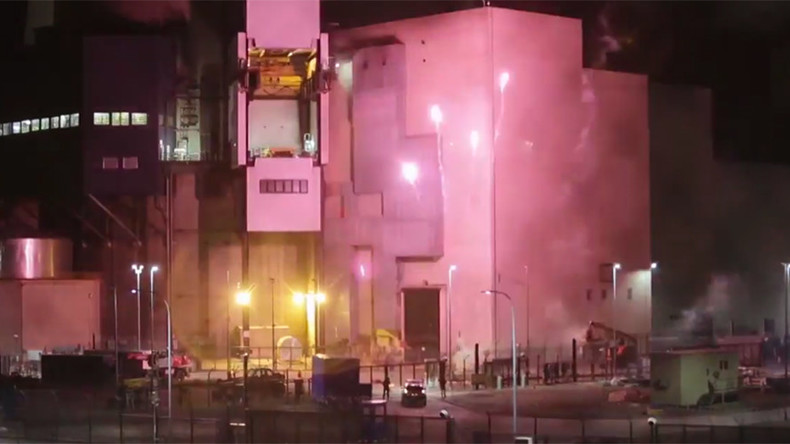 Greenpeace activists launched a firework display inside the grounds of a French nuclear power plant to highlight "security risks" at the facility.
READ MORE: Greenpeace activists board ship carrying 1000s of Volkswagen diesel cars in Thames Estuary
Demonstrators from the environmental NGO broke into the site in the early hours of Thursday morning.
Videos shared by Greenpeace show fireworks lighting up the sky above the nuclear plant.
The organization said it wanted to draw attention to the sites and the ease with which security could be breached.
"While EDF, the operator of French nuclear power plants, claims to secure the power stations, Greenpeace France's activists point to the lack of protection of the most fragile parts of installations," it said in a statement.
EDF Cattenom said that the activists were stopped by authorities and did not gain access to the nuclear zone. It added that the incident had no impact on safety.
The activists were arrested at the site, according to BFMTV.
Earlier this week Greenpeace France issued a report on what it describes as the "extreme fragility" of spent fuel pools which it claimed were poorly protected. It added that "people with criminal intent have shown clear signs of interest in nuclear facilities and activities," and improvements in security were necessary to prevent this.
The report was not released to the general public but will be submitted to nuclear security authorities in France, Belgium, Switzerland, Luxembourg and Germany.
France has 58 nuclear reactors, operated by EDF, which produce some 75% of the country's electricity.
READ MORE: 'Sword of Damocles': French, Belgian power plants vulnerable to attacks – Greenpeace
EDF responded to the Greenpeace report by saying that security was a priority for the company and it makes continuous investment accordingly.
Nuclear power plant manager Philippe Sasseigne told Le Parisien of plans to invest an additional €700 million in security procedures both in personnel and equipment, such as lighting, fencing and cameras.
He said that although spent fuel pools are kept outside the reactor building they still are afforded the same level of protection, against storms and floods as well as malicious acts such as terrorism.
You can share this story on social media: