Militants can let civilians flee, or leave E. Ghouta themselves – Russian military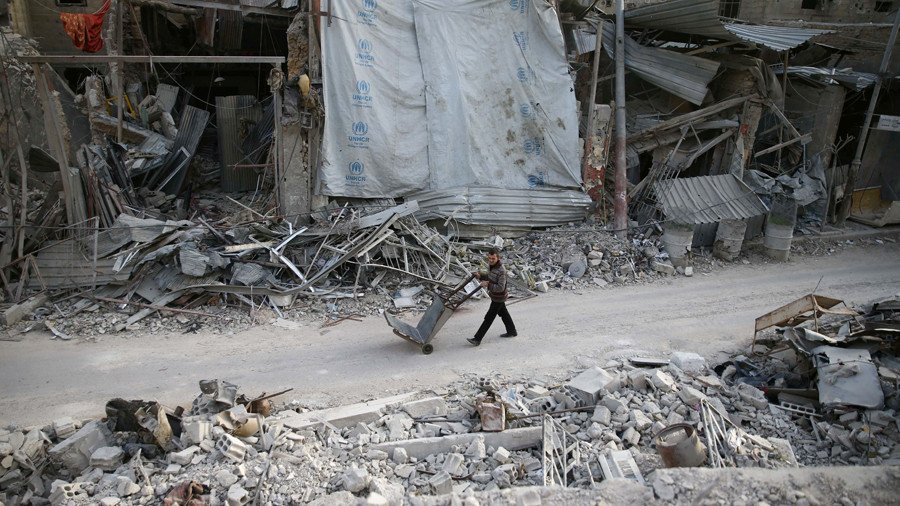 The Russian military has appealed to militants in East Ghouta to allow civilians flee the area. Alternatively, it offered free passage out of the city to the armed groups and their families, along with safety guarantees.
"If you do not wish to let civilians out of the areas under your control, we are ready to guarantee you and your families a safe passage out of Eastern Ghouta," reads an official statement from the Russian Reconciliation Center in Syria. To that end, the Russian military offered to provide the rebels with any transport necessary to leave the city, as well as ensuring their safety all along the evacuation route.
The statement also called on leaders of the armed groups in Eastern Ghouta to take all necessary measures to allow "unimpeded delivery of humanitarian aid for civilians" in order to ease their suffering.
About a week ago, a Russia-backed ceasefire came into effect in Syria's Eastern Ghouta. The truce was aimed at creating a humanitarian corridor that would allow the evacuation of civilians, as well as delivery of humanitarian assistance to ease the suffering of the local population.
However, RT has been told that militants are continuing to shell and shoot people attempting to leave the city.
"Going from Ghouta to the [humanitarian] camp is very dangerous, people are shelled and they are sniped," a Christian nun of Syria's St James Monastery told RT. She also suggested that militants hinder evacuation "because there is the will on the rebel side to keep the civilians under their custody, and maybe to use them as a human shield."
The Russian Defense Ministry earlier said that Ghouta's armed groups need civilians for their "human-shield tactics" and that is the reason why they seek to prevent anyone from leaving. The evacuation deadlock in the city is reminiscent of the situation in Aleppo, where attempts to ensure safe passage out of the city for civilians were continuously sabotaged by militants shelling the humanitarian corridor.
Think your friends would be interested? Share this story!
You can share this story on social media: