German army plans Iraqi troop training despite own 'dramatically bad' state – reports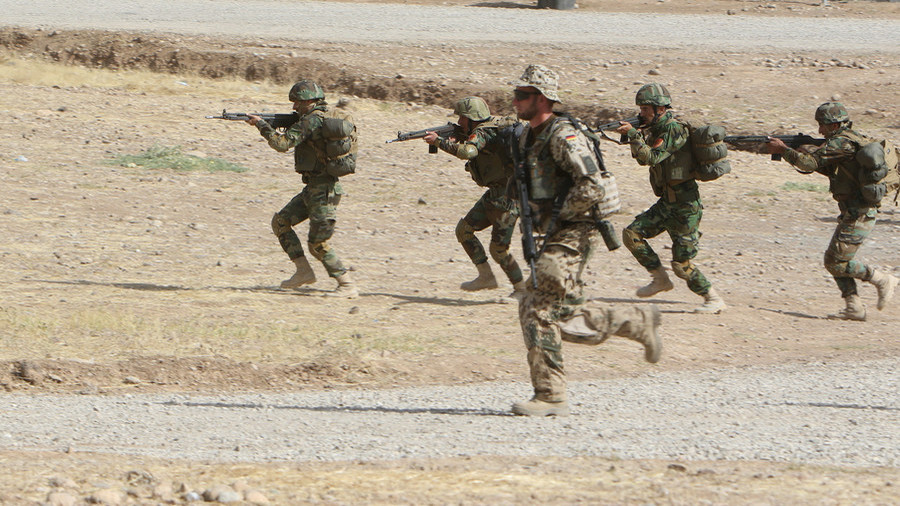 Despite being overstretched by shortages of reliable equipment and thousands of vacant positions, the German military is reportedly planning to deploy troops to Iraq as part of a new mission to train security forces there.
German advisers are expected to mentor Iraqi soldiers, training them in explosive ordnance disposal, military logistics as well as field medicine, according to a 15-page parliamentary mandate accessed by broadcaster ARD. Germany will also help Iraq to build up "a transparent command-and-control structure" of its security forces.
The mandate, which is yet to be approved by the Bundestag, includes "carrying out specialized training courses (with a focus on training the trainers), as well as measures to build capacity of the regular Iraqi military and security forces, focusing on central Iraqi armed forces."
Until recently, Berlin's military presence in the region has been limited to providing several Tornado reconnaissance jets and air tankers to US-led anti-Islamic State (IS, formerly ISIS) operations as well as training Kurdish Peshmerga fighters in northern Iraq.
While the latter mission ends on June 30, the new deployment will last until October this year. Unusually short for a training mission, it has been limited in time as Berlin fears growing instability in Iraq.
War-ravaged Iraq will host general elections in May, and it is unclear whether incumbent Prime Minister Haider Al-Abadi will stay in power. If he loses to Nuri al-Maliki, sectarian conflicts may escalate, thus posing too much danger to the German task force.
Despite the fact that both Al-Abadi and Al-Maliki once belonged to the same Shiite Islamic Dawa Party, they will represent different coalitions during the May elections. Al-Abadi established a new political movement called the Victory Alliance not long before the elections. Now, he heads the coalition, which is also called "Victory." Al-Maliki leads the State of Law Coalition, which was established in 2009 and consists of several political blocs, including the Dawa Party.
Al-Maliki already served as prime minister of Iraq between 2006 and 2014. His critics say that his policies were aimed at limiting the power of both Kurds and Sunnis in Iraq and concentrating the power within his own party. Some believe that his actions contributed to sectarian tensions, fueled both the Kurdish secessionist aspirations and the Sunni insurgency, and led to the rise of Islamic State (IS, former ISIS) in Iraq.
Interestingly, the mandate sets no troop levels, but it is understood that the contingent will include enough soldiers to protect the instructors as well as a field medical unit. It underlines that Germany will seek to maintain "reasonable balance between the Iraqi central government and – in relation with central Iraqi government – the Iraqi Kurdistan region."
The news comes nearly two weeks after the German parliament's defense committee raised the alarm, warning of poor state of the Bundeswehr. In late February, Hans-Peter Bartels, the committee head, said a "dramatically bad" situation is gripping the military.
An annual report on the German armed forces presented by Bartels said that only a fraction of important weapons systems were suitable for service. The Bundeswehr was suffering from "often too slow delivery," and "spare parts were missing everywhere." According to Bartels, the dire situation affected the military's airplanes and helicopters, surface ships and submarines, tanks and wheeled vehicles.
The damning report also noted that 21,000 officer and non-commissioned officer positions were vacant, presenting a major personnel problem for the 179,000-strong Bundeswehr. Nevertheless, German leaders have made clear over the past years that they want the military to be more pro-active in international affairs.
Currently, the Bundeswehr is taking part in more than a dozen overseas missions, including deployments in conflict zones such as Afghanistan and Mali. German troops are also expected to assume the lead role in NATO's Very High Readiness Joint Task Force (VJTF), the backbone of the military bloc's buildup close to Russia's borders.
However, an internal Bundeswehr report obtained by the Rheinische Post newspaper revealed the military lacked not just heavy weaponry or ammunition but also bulletproof vests, tents and winter clothing that were necessary for the mission. "[The fact] that even basic equipment such as protective vests and winter clothing is missing, shows the wretched condition the Bundeswehr finds itself in," Marie-Agnes Strack-Zimmermann, Free Democratic Party MP in charge of defense, told the newspaper.
Think your friends would be interested? Share this story!
You can share this story on social media: